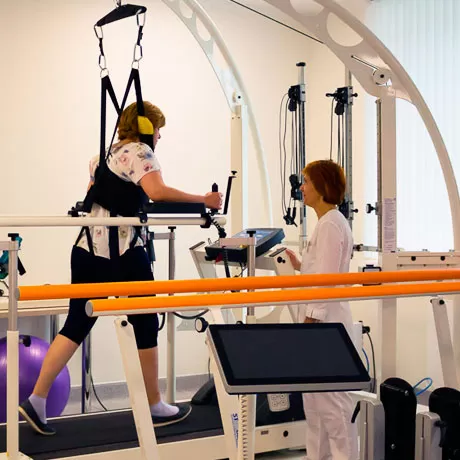 Cerebral accident recovery
Cerebral accident recovery is a lengthly process which involves a number of consecutive stages.
INDICATIONS TO CEREBRAL ACCIDENT REHABILITATION
motor function impairment;
coordinatory function disorders;
speech abnormalities.
CEREBRAL ACCIDENT REHABILITATION SERVICES PROVIDED BY THE RCMC
Our Center offers individual multidisciplinary management of patients that suffered a cerebral circulation failure at each stage of patient rehabilitation. Unlimited neuromotor rehabilitation capabilities enable us to begin the recovery process at the earliest possible opportunity, even when the patient still stays at the intensive therapy facility.
The innovative tilt table Erigo Pro (Hocoma, Switzerland) features a robotic system and the synchronous lower limb electrical stimulation function to ensure the maintenance of normal vital activities of a bed-ridden patient. The possibility of early verticalization makes it possible to normalize blood circulation, prevent bed sores, congestions in lungs and pneumonia, lower limb thromboses, muscular spasticity and joint contracture.
The next stage is the recovery of impaired functions and abilities. At each stage of recovery, the patient is supervised by experienced physical rehabilitation specialists.
It is important to preserve mobility of limb joints at early stages, and to prevent contractures. To this aim, passive exercises are performed in combination with position therapy, passive walking imitation, respiration exercises and limb massage.
Following the above stage, active movement development exercises and training aimed at the maintenance of sitting position commence. Correction of motor and coordination impairment is carried out with the use of the most advanced equipment that features biofeedback. Unique multi-function rehabilitation trainers Amadeo, Tymo and Pablo (Tyromotion GmbH, Austria) are used for the assessment and correction of motor dysfunctions of the upper and lower limbs and the torso. Exercises are conducted with the use of interactive software, which helps to maintain focus, cognitive functions and motivation.
To restore motor functions and everyday skills, we also employ such methods as occupational therapy and mirror therapy.
An important rehabilitation objective during cerebral accident recovery is restoring ones walking skills. Patients are trained to maintain the standing position and restore a proper gait. The H/P/COSMOS Robowalk expander treadmill system featuring weight balancing (made by HPCOSMOS, Germany) makes it possible to speed up the process of motor function recovery.
Another supplementary rehabilitation technique uses Kinesio Taping. Correction of muscle tone with the use of elastic cotton bands that are attached to skin facilitates the recovery of functions of impacted limbs.
Psychological and social adaptation of cerebral accident patient is no less important. This challenge is tackled at every stage of rehabilitation by experienced psychologists, psychotherapists and speech therapists.
At the later stages of rehabilitation, recovery gymnastics is conducted in a pool. The Rehabilitation and Physical Therapy Department's pool is equipped with a special lifting device to ensure comfort and safety of physically challenged patients, and also features water exercise stations.
Apart from the above, we apply a broad spectrum of physiotherapy, balneotherapy, massage and reflex therapy procedures at the later stages of recovery.
CONTRAINDICATIONS
General grave condition of the patient.
HOW CAN I UNDERGO CEREBRAL ACCIDENT REHABILITATION AT THE RCMC?
Our Center offers hospitalization at the inpatient facilities for recovery treatment and rehabilitation. Hospitalization is carried out after the approval of the Center's neurologist.
To do this, you need:
Call the Contact Center to make an appointment with a neurologist
Come to the consultation on time and bring available medical records.
Conclude a contract for the provision of paid services at the registry on the day of hospitalization
Pay the invoice at the cash desk of the RCMC or via ЕРИП (SSIS: Single Settlement and Information Space)
Branch services
The information presented in this Price List is for guidance only. Some services are provided only in conjunction with other services. Therefore, the final price may differ from those presented on this site when contacting a medical center to conclude a contract for the provision of medical services.
Лечебно-восстановительные процедуры после инсульта
Вверх
Услуга
цена для граждан:
беларуси
снг
остальных стран
Гидрокинезотерапия в бассейне
21 р. 92 к.
36 р. 90 к.
36 р. 90 к.
ЛФК для неврологических пациентов при индивидуальном методе занятий
19 р. 39 к.
34 р. 37 к.
34 р. 37 к.
Механотерапия на тренажерах
14 р. 03 к.
28 р. 68 к.
28 р. 68 к.
Вакуумтерапия
10 р. 79 к.
26 р. 80 к.
26 р. 80 к.
Магнитотерапия общая, термомагнитотерапия общая (на аппарате Магнитотурботрон)
14 р. 25 к.
31 р. 57 к.
31 р. 57 к.
Магнитотерапия общая, термомагнитотерапия общая (на аппарате УниСПОК)
10 р. 45 к.
27 р. 72 к.
27 р. 72 к.
Осцилляторная электротерапия (цена от)
6 р. 27 к.
19 р. 01 к.
19 р. 01 к.
Магнитолазеропунктура
28 р. 38 к.
43 р. 59 к.
43 р. 59 к.
Электролечение
10 р. 61 к.
28 р. 27 к.
28 р. 27 к.
Эрготерапия
19 р. 39 к.
34 р. 37 к.
34 р. 37 к.
Парафино-озокеритовые аппликации
12 р. 71 к.
34 р. 53 к.
34 р. 53 к.
Классическое иглоукалывание (акупунктура) без учета игл
30 р. 09 к.
49 р. 63 к.
49 р. 63 к.
Аурикулярная рефлексотерапия
21 р. 30 к.
29 р. 44 к.
29 р. 44 к.
Электроакупунктура
35 р. 57 к.
67 р. 45 к.
67 р. 45 к.
Кинезиотейпирование (одна зона, без учета стоимости лент)
11 р. 94 к.
27 р. 37 к.
27 р. 37 к.