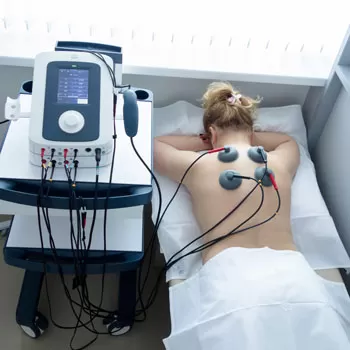 MEDICAL SERVICES PROVIDED BY PHYSIOTHERAPY SPECIALISTS
Our physiotherapy specialists introduce and actively apply the most advanced methods of treatment and rehabilitation. They enjoy the advantage of advanced equipment (produced both domestically and abroad) used by the electric therapy, laser therapy, balneotherapy, heat and pelotherapy and cryotherapy facilities and the inhalatorium. We offer a comfortable environment for rehabilitation procedures.
Physical therapy and rehabilitation methods serve to improve overall vitality of the body, facilitate fatigue relieve, improve functional activity of organs and systems, promote restoration of impaired functions and boost body defenses. Physiotherapy is extremely effective in treatment of cardiovascular, respiratory, genito-urinary and musculoskeletal systems, as well as in therapy of injury aftereffects.
One of the crucial advantages of physiotherapy is its universal effect whereby the same factor may be applied to treat various disorders. No less important are the physiological aspect, the absence of toxic or allergic action on the body, prolonged action and persistence of therapeutic effects.
TERMS OF SERVICE PROVISION
Physiotherapy services are provided under health care provision contracts.
Procedure rooms are open daily from 8:00 till 20:00
Please note:
Patients are referred to the physiotherapy specialist after the preliminary examinations.
To make an appointment with a physiotherapist and for reference information, please contact the Contact Center: 8 (017) 543-44-44 i 8 (029) 543-44-45.
Harlan Maxim Viktorovich
Reflexologist