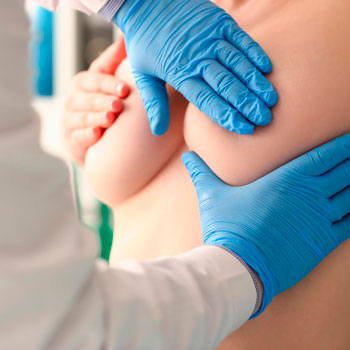 In September of 2012, State Institution "Republican Clinical Medical Center" of the Administration of the President of the Republic of Belarus established the Mammary Gland Pathology Office.
MEDICAL SERVICES PROVIDED BY THE MAMMOLOGY OFFICE
Mammology-related services provided at the Clinical Health Care Center are arranged as a complete cycle. Our highest Qualification Grade specialists offer all types of breast studies:
physical examination,
ultrasonic study using expert-class stations that have the strain elastography and shear-wave elasticity imaging features,
all types of interventions assisted by ultrasonic navigation,
X-ray studies with the possibility of enlarged imaging,
tomosynthesis (DBT),
contrast enhanced spectral mammography,
X-ray navigated biopsy,
preoperative needle localization,
assessment of generated mammograms.
Surgical services include:
diagnostic and therapeutic procedures on the mammal gland, and benign process sanation,
all types of surgical procedures for patients affected by breast cancer including oncoplastic surgery,
implant installation,
sentinel lymph node biopsy,
advanced original procedures of regional lymph node dissection.
Morphological examination of sampled preparation involves assessment of the biological subtype of the tumor (receptor status ER, PR, proliferative index Ki67 and Her-2 neu and cytokeratin expression levels).
Advisory assistance is offered to patients with dishormonal dysplasia of mammary gland tissue (mastopathy). We provide expert council-based advisory assistance for patients with breast cancer based on national and international treatment standards and with consideration of the patient's individual peculiarities and biological properties of the tumor.
TERMS OF SERVICE PROVISION
Our mammology specialists receive patients on the basis of health care service contracts and private health insurance programs.
The Office is open daily from 8:00 till 20:00.
To make an appointment with a mammologist and for reference information, please contact the Contact Center: 8 (017) 543-44-44 and 8 (029) 543-44-45.
Poddubny Alexander Alexandrovich
Head of the mammology office
Semichkovsky Leonid Anatolyevich
Oncologist-surgeon