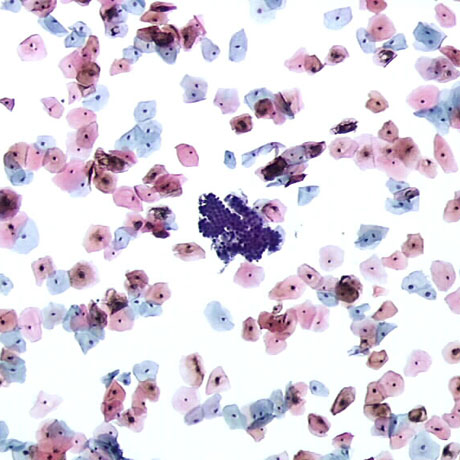 Liquid-based cytology
A modern cytological technique recommended by WHO for uterine neck pathology screening
The main distinctions of liquid-based cytology from conventional cytology are:
- use of special combination brushes that enable high-quality collection of cell material from both the surface of uterine neck and the cervical canal;
- use of special liquid-saturated media to transfer cells to the slide;
- the capacity to produce multilayer slides that enable high-quality cell visualization;
- the capacity to produce additional slides and perform an immunocytochemical analysis if required.
INDICATIONS FOR THE EXAMINATION
Preventive examination;
Assessment of effectiveness uterine neck disorder treatment;
Detection of cancer-specific markers that indicate cervix carcinoma.
LIQUID-BASED CYTOLOGY PERFORMED BY THE RCMC
Our Center employs a fully automated liquid-based cytology system, as well as high-quality stains.
PREPARING FOR THE TEST
Refrain from using vaginal tampons, suppositories or ointments or vaginal douching;
the examination cannot be performed during the menstrual flux;
refrain from sexual intercourse a few days before the examination.
HOW DO I HAVE DIAGNOSTICS AT THE RCMC?
An obstetrician-gynecologist will take a swab for liquid-based cytology study during a reception.
Branch services
The information presented in this Price List is for guidance only. Some services are provided only in conjunction with other services. Therefore, the final price may differ from those presented on this site when contacting a medical center to conclude a contract for the provision of medical services.
Жидкостная цитология
Вверх
Услуга
цена для граждан:
беларуси
снг
остальных стран
Цитологическое исследование материала с применением методов жидкостной цитологии
41 р. 50 к.
76 р. 78 к.
76 р. 78 к.