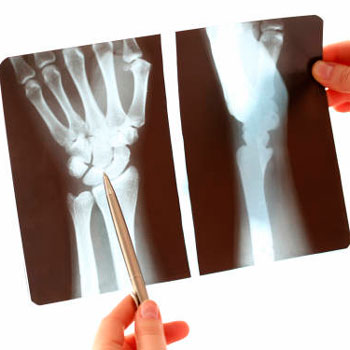 MEDICAL SERVICES PROVIDED BY THE TRAUMA SURGERY OFFICE SPECIALISTS
The Trauma Surgery Office of the Republican Clinical Medical Center offers advisory reception of patients affected by traumas and pathologies of the locomotor apparatus.
We perform the following medical manipulations:
remedial soft, elastic and plaster immobilization;
fracture reposition;
cure of dislocations;
exploratory joint punctures;
anaesthetic block;
intra-articular and periarticular medicine administration (hormones, chondroprotective agents, synovial fluid replacement)
Surgical procedures for outpatients:
osteosynthesis of fractures;
suturing of wrist extensor and flexor tendons;
bursectomy and miotransposition in cases of static feet deformations;
removal of soft tissue and bone neoplasms (hygromas, ganglia, exostoses, enchondroma, cystic lesions etc.) including capsular ligamentous apparatus plasty;
operations in cases of wrist disorder (ganglia, stenosing ligamentitis, Dupuytren's contracture);
surgical removal of plantar aponeurositis in cases of Ledderhose disease;
nerve operations: neurolysis, surgical removal or transfer of painful neuromas;
dermal auto-plasty of granulating wounds;
removal of metal foreign objects.
TERMS OF SERVICE PROVISION
Orthopedic traumatologist receives patients based on health service contracts.
The Office is open daily, from 8:00 till 20:00, and from 9:00 till 15:00 on Saturday once monthly.
To make an appointment with an orthopedic traumatologist and for reference information, please contact the Contact Cente: 8 (017) 543-44-44 and 8 (029) 543-44-45.
Kravets Oleg Alexandrovich
Orthopedic traumatologist, neurosurgeon
Dudinsky Andrey Kazimirovich
Orthopedic traumatologist
Kravets Oleg Alexandrovich
Orthopedic traumatologist, neurosurgeon
Specialization: Orthopedic traumatologist, neurosurgeon
Work experience: 22 of the year
To the doctor's card
See all doctors