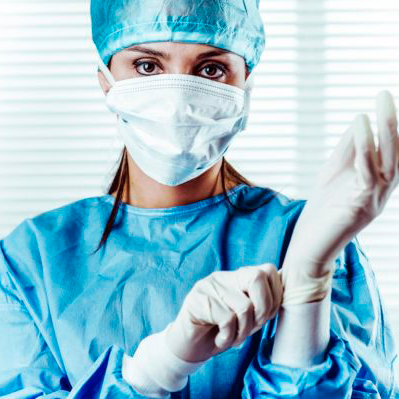 MEDICAL SERVICES PROVIDED BY SURGERY OFFICE SPECIALISTS
The Surgery Office of the Outpatient-Polyclinic Health Care Department provides consultation and diagnostic services to surgery patients.
Patient reception and counseling is performed by highly skilled specialists of the highest and first Qualification Grade. Some of them are Candidates of Medicine.
The following surgical interventions are performed on outpatients:
Planned surgery of benign soft tissue neoplasms of various localization (adipoma, atheroma, nevus, dermoid cysts, papilloma, etc.) including the electrocoagulation technique;
Removal of skin basilomas of various localization;
Ingrown nail surgery which involves periungual cushion plasty (in certain cases -- with the use of the electrocoagulation technique) and removal of deformed nail plates.
Diagnostic activities and operations feature:
minimal traumatization of tissues (mini-approach, microsurgery, endovideoscopy);
application of ultrasonic control;
application of laser technologies and of electric and criocoagulation techniques.
TERMS OF SERVICE PROVISION
Surgeons receive patients based on health service contracts.
The Office is open daily from 8:00 till 20:00.
Please note:
Prior to surgical intervention, patients not assigned to SI RCHCC must obtain an abstract of outpatient medical record at their supervising medical institution stating relevant analysis results.
Для запісу на прыём да хірурга і для атрымання даведачнай інфармацыі звяртайцеся ў кантакт-цэнтр: 8 (017) 543-44-44 and 8 (029) 543-44-45.
Borodin Pyotr Sergeevich
Surgeon
Mikhin Konstantin Pavlovich
Surgeon