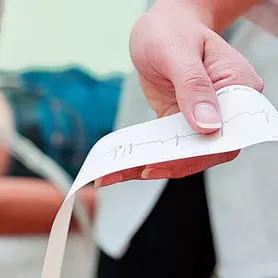 Electrocardiography
Electrocardiography is one of the most simple, accessible and informative technique of cardiac disorder diagnostics which is based of registering electric pulses generated in by heart and recording them as spikes on a special paper tape.
INDICATIONS FOR ELECTROCARDIOGRAPHIC EXAMINATION
ECG is appointed both preventively and in emergencies.
Using a cardiogram, a medical professional is able to evaluate heart rate, sufficiency of heart blood supply, as well as any hypertrophy of a heart's compartment.
THE PROCEDURE OF ELECTROCARDIOGRAPHY
With the patient in a lying position, electrodes and clamps are attached that register bioelectric activity of the cardiovascular system. The ECG diagram is recoded on a paper tape.
Apart from standard electrocardiography, we perform functional exercise load ECG. In this case, cardiogram is recorded after the introduction of pharmaceuticals that affect coronary circulation and functional status of the myocardium. The examination involves monitoring the patient's condition, measurement of arterial blood pressure and recording an ECG.
CONTRAINDICATIONS:
There are no absolute contraindications to ECG.
PREPARING FOR ELECTROCARDIOGRAPHY
No special preparation to ECG is required, however, the patient is recommended to recover their breath and calm down -- in this case the cardiogram would provide a more accurate evaluation of the patient's heart condition.
Please bring along previous ECG records.
If the patient uses a cardiac pacemaker, they should also bring the most current programming data.
HOW CAN I GET ELECTROCARDIOGRAPHY AT THE RCMC
To be eligible for the examination, the patient must have
a physician's referral
Please call the Contact Center and book an appointment for the examination
You need to complete and sign a paid service contract at the Reception (present a physician's referral to the receptionist)
Pay the bill at the RCMC pay office, or through the ERIP electronic system
Get the examination at the appointed time.
Branch services
The information presented in this Price List is for guidance only. Some services are provided only in conjunction with other services. Therefore, the final price may differ from those presented on this site when contacting a medical center to conclude a contract for the provision of medical services.
Электрокардиография
Вверх
Услуга
цена для граждан:
беларуси
снг
остальных стран
Электрокардиограмма без функциональных проб
20 р. 50 к.
30 р. 75 к.
30 р. 75 к.
Электрокардиограмма c функциональными пробами (за одну пробу)
32 р. 50 к.
48 р. 75 к.
48 р. 75 к.