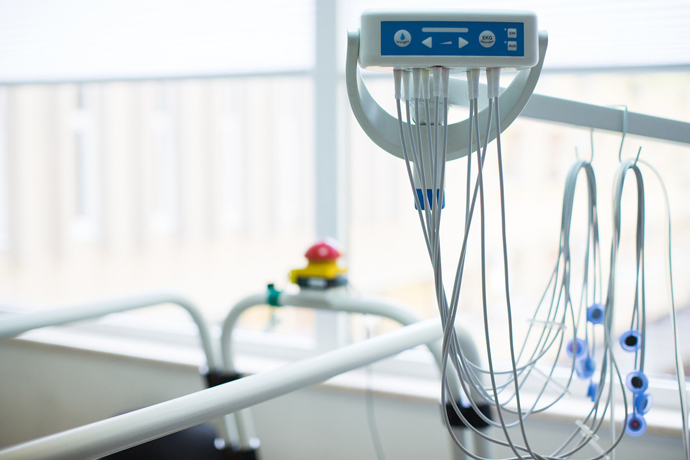 Test exercises
This is a diagnostic technique which involves recording an electrocardiogram from 12 standard limb leads and a dynamic measurement of arterial blood pressure while performing staged continually increasing physical exercises at a treadmill or an ergometric bicycle.
INDICATIONS FOR TEST EXERCISES
Test exercises may be appointed to assess the reaction of the cardiovascular system to physical activities. This makes it possible to determine the threshold at which disorders manifest themselves. Based on the data, the physician may develop, or adjust, the tactic of subsequent therapy and to clarify possible disorder development.
THE PROCEDURE OF THE TEST
Treadmill testing consists of an electrocardiography examination under exercise loads at a special running track (treadmill). In another variant of the test, an ergometric bicycle (a specialized bicycle) is used.
CONTRAINDICATIONS:
acute myocardial infarction;
acute cerebral accident;
severe chronic cardiac insufficiency;
severe heart diseases;
severe heart beat arrhythmia;
acute infectious diseases;
fever;
severe aggravation of chronic disorders;
disorders of the locomotor apparatus.
PREPARING FOR THE TEST
Before taking the exercise test, you need to obtain a referral for ECG from your therapeutist, and submit to ECG procedure.
One day before the test, the patient shall refrain from taking certain pharmaceuticals (betablockers and nitrates).
Refrain from eating 4 hours before the test.
Bring comfortable loose clothes and cotton socks.
HOW CAN I GET THIS TEST AT THE RCMC
To be eligible for the examination, the patient must have
a physician's referral
Please call the Contact Center and book an appointment for the examination
You need to complete and sign a paid service contract at the Reception (present a physician's referral to the receptionist)
Pay the bill at the RCMC pay office, or through the ERIP electronic system
Get the test at the appointed time.
Branch services
The information presented in this Price List is for guidance only. Some services are provided only in conjunction with other services. Therefore, the final price may differ from those presented on this site when contacting a medical center to conclude a contract for the provision of medical services.
Услуга
цена для граждан:
беларуси
снг
остальных стран
Стресс-ЭХО КГ с велоэргометрией
125 р.
165 р.
165 р.
Тредмил-тест (ЭКГ исследования с дозированной физической нагрузкой)
78 р. 80 к.
118 р. 20 к.
118 р. 20 к.