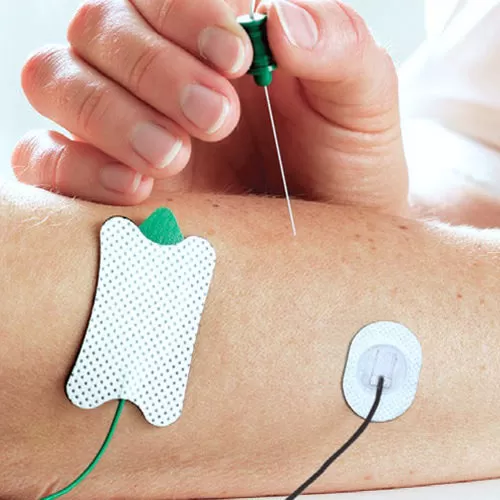 Electroneuromyography (ENMG)
Electroneuromyography (ENMG) is a technique of studying bioelectric potentials that occur within skeletal muscles when muscle fibers are activated, in other words, this is a recording of electrical activity of muscles.
INDICATIONS FOR ELECTRONEUROMYOGRAPHY
The procedure is performed to determine the level and nature of the neuromuscular system impairment.
THE PROCEDURE OF ELECTRONEUROMYOGRAPHY
Electroneuromyography may be performed in several ways, the specific procedure is selected by the medical professional based on clinical evidence of the patient's status. The procedures are: surface (non-invasive), needle (thin disposable needles are introduced into muscles, after which functional characteristics of muscle activity at rest and in the flexed state are recorded) and stimulant electromyography (muscle fiber is stimulated either non-invasively or by introducing needles).
CONTRAINDICATIONS:
blood clotting abnormalities.
use of a cardiac pacemaker;
blood disease;
cardiac pathologies;
pregnancy.
PREPARING FOR ELECTRONEUROMYOGRAPHY
Please clarify with your physician whether you should suspend regular intake of pharmaceuticals that affect the neuromuscular system (neuromuscular relaxants, etc.), and for how long before the procedure.
Please bring previous results of ENMG (if any) together with all other documents relating to the current health condition (MRI, CT scan results, etc.).
You will have to present a referral from your consulting physician stating the area to be studied and the suspected diagnosis.
Three hours before the examination, please refrain from eating and drinking beverages that affect the nervous system (coffee, chocolate, cola drinks, energy drinks).
The key requirement is a clean body surface. Do not use hand or foot care creams or massage creams and oils.
Your clothes should be loose and comfortable, and allow easy access to body parts.
HOW CAN I GET ELECTRONEUROMYOGRAPHY AT THE RCMC
To be eligible for the examination, the patient must have
a physician's referral
Please call the Contact Center and book an appointment for the examination
You need to complete and sign a paid service contract at the Reception (present a physician's referral to the receptionist)
Pay the bill at the RCMC pay office, or through the ERIP electronic system
Get the examination at the appointed time.
Branch services
The information presented in this Price List is for guidance only. Some services are provided only in conjunction with other services. Therefore, the final price may differ from those presented on this site when contacting a medical center to conclude a contract for the provision of medical services.
Электронейромиография
Вверх
Услуга
цена для граждан:
беларуси
снг
остальных стран
Электромиография стимуляционная нижних конечностей (n.Tibialis, n.Peroneus, n.Suralis)
130 р.
195 р.
195 р.
Электромиография стимуляционная верхних конечностей (n.Medianus, n.Ulnaris)
157 р.
235 р. 50 к.
235 р. 50 к.