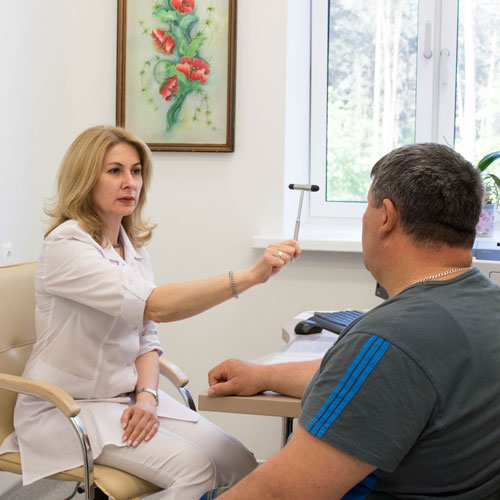 Neurologist's reception
SI "Republican Clinical Medical Center" offers health care services aimed at the prophylaxis, diagnostics and treatment of disorders of the central and peripheral nervous systems and certain locomotor apparatus pathologies.
INDICATIONS TO SEEKING A NEUROLOGIST'S SERVICES
The majority of neurological disorders have a chronic nature, however, there is a number of symptoms that call for immediate diagnostics.
Some of the symptoms that neurologists deal with are:
Frequent headaches, particularly those accompanied by degradation of eyesight, dizziness, changes in blood pressure and weakness;
Loss of eyesight or its abrupt deterioration;
Incidents of faintness;
Dizziness;
Back and neck pains;
Cramps and seizures;
Muscle weakness, failure to perform everyday tasks;
Reduction in sensitivity of certain skin areas, numbness or tingling sensation;
Sleep impairment;
Impairment of movement and spacial orientation;
Memory impairment.
WHAT IS A NEUROLOGIST'S RECEPTION LIKE?
At our Center, neurologists provide assistance, both to outpatients and at out inpatient facilities, in cases of back pains, head and facial pains, dizziness, weakness of the limbs, as well as more severe pathologies of the nervous system.
Medical specialists of our Center possess comprehensive expertise and practical experience required to perform diagnostics and treatment of neurological manifestations of vertebral osteochondrosis, cerebral vessel diseases, peripheral nervous system pathologies and other neurological disorders. Advanced diagnostic equipment of the Functional and X-ray Diagnostic Departments enables the specialists to determine the diagnosis accurately.
HOW CAN I USE THE SERVICES OF A NEUROLOGIST AT THE RCMC?
You should call the Contact Center to make a reservation for a consultation.
Fill in and sign the paid service contract at the Reception.
Pay the bill at the RCMC Pay Office, or through the ERIP electronic payment system.
Be at the Center at the appointed time. Please bring along the results of any previous tests (if any).
Branch services
The information presented in this Price List is for guidance only. Some services are provided only in conjunction with other services. Therefore, the final price may differ from those presented on this site when contacting a medical center to conclude a contract for the provision of medical services.
Прием и консультации невролога
Вверх
Услуга
цена для граждан:
беларуси
снг
остальных стран
Консультация доцента, к.м.н.(терапевтич.) профиля
65 р.
97 р. 50 к.
97 р. 50 к.
Первичный прием врачом-неврологом
42 р.
83 р. 46 к.
83 р. 46 к.
Повторный прием врачом-неврологом
31 р.
61 р. 46 к.
61 р. 46 к.