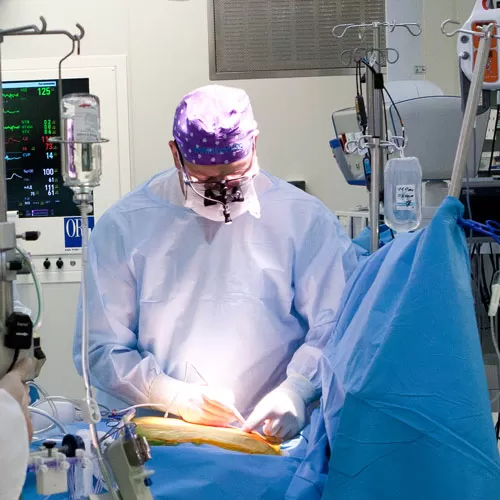 Coronary surgery
The aim of coronary surgery is a direct increase of coronary blood flow which results in the improvement of the patient's quality of life, reduction of the risk of myocardial infarction and extension of the patient's life.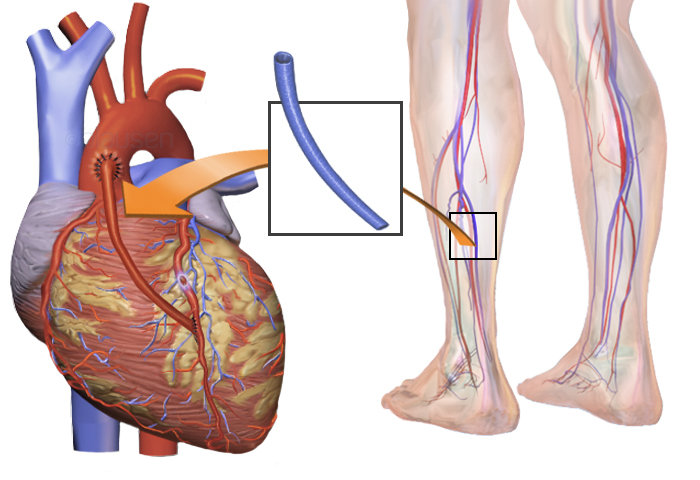 INDICATIONS FOR A CARDIOVASCULAR SURGERY INTERVENTION
severe progressive postinfarction an effort angina;
myocardial infarction;
coronary channel disorder with an unfavorable prognosis;
severe impairment of myocardial contractility.
CORONARY SURGERY PERFORMED AT THE RCMC
The Operative Cardiovascular Surgery Department performs coronary bypass surgery operations that may involve several variants of artificial blood circulation or off-pump operations.
Coronary bypass surgery with the use of arterial and venous grafts (shunts)
The technique is widely employed around the world. One particular feature of this type of operations is the use of both thoracic artery and great femoral saphenous vein as grafts (shunts).
Comprehensive arterial revascularization
The procedure of comprehensive arterial revascularization involves the use of only arterial grafts, that is, using left and right thoracic arteries or radial artery, as shunts.
Coronary bypass surgery with the use of the non-touch technique
Application of the non-touch technique in patients with a pronounced artherosclerotic impairment enables physicians to avoid manipulations with the aorta, and thus significantly decreases the risk of postoperative complications.
Treatment of coronary heart disease complications
Specialists of our Department effectively perform operations to cure complications associated with a previous myocardial infarction, such as left ventricular aneurysms, postinfraction defects of the interventricular septum, and ischemic mitral insufficiencies.
CONTRAINDICATIONS
diffuse damage of all the coronary arteries;
radical decrease of the left ventricular ejection fraction down to 30% or lower resulting from a cicatrical affection;
congestive cardiac insufficiency;
chronic non-specific lung disorders;
renal insufficiency;
oncological diseases.
PREPARATION FOR A CARDIOVASCULAR SURGERY INTERVENTION
Each patient is prepared individually based on an accurate assessment of their state of health.
HOW TO GET CARDIAC SURGERY TREATMENT AT THE RCMC
Call the Contact Center to make an appointment for a consultation with the head of the cardiac surgery department
Come to the consultation on time.
On the day of the procedure conclude a contract for the provision of paid services at the registry.
Pay the invoice at the cash desk of the RCMC or via ЕРИП (SSIS: Single Settlement and Information Space)
Branch services
The information presented in this Price List is for guidance only. Some services are provided only in conjunction with other services. Therefore, the final price may differ from those presented on this site when contacting a medical center to conclude a contract for the provision of medical services.
Аортокоронарное шунтирование
Вверх
Услуга
цена для граждан:
беларуси
снг
остальных стран
Аортокоронарное шунтирование (АКШ) на работающем сердце
7494 р. 75 к.
10281 р. 75 к.
10281 р. 75 к.
Анестезиологическое пособие
1366 р. 29 к.
2846 р. 43 к.
2846 р. 43 к.
Аортокоронарное шунтирование на работающем сердце в условиях искусственного кровообращения
9359 р. 63 к.
13965 р. 62 к.
13965 р. 62 к.
Анестезиологическое пособие
1428 р. 16 к.
2975 р. 33 к.
2975 р. 33 к.