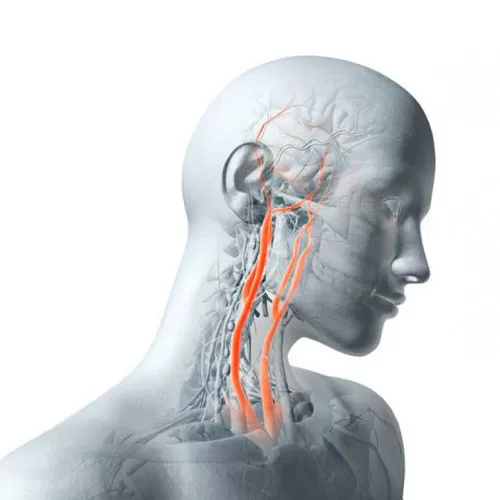 Vascular surgery
SI "Republican Clinical Medical Center" performs various brachiocephalic artery operations. We also offer treatment of varicose vein dilation of the lower limbs with the use of laser technologies (endovascular laser coagulation, ELC).
INDICATIONS FOR SURGICAL INTERVENTION
brachiocephalic artery atherosclerosis (over 70% of the lumen) with concomitant diseases (diabetes mellitus, multifocal atherosclerosis, chronic obstructive lung diseases, renal insufficiency, benign arterial hypertension);
progressive stenosis revealed during repeated examinations;
heterogenous echonegative atheromatous plaques;
cerebral blood circulation impairment associated with internal carotid artery tortuosity;
problems of blood supply systems of the lower limbs that involve continuing tiredness, leg pain and fatigue even under moderate physical loads;
leg swelling which does not answer to conservative therapy;
trophic ulcers and other severe skin trauma;
advanced stage of thrombophlebitis.
VASCULAR SURGERY PERFORMED AT THE RCMC
Reparative operations on brachiocephalic arteries.
One of the root causes of an ischemic stroke is artherosclerotic damage of brachiocephalic arteries (these are arteries that supply blood to the brain). In cases of constrictive lesions, we perform blood flow recovery operations.
Surgical procedures are carried out under general anesthesia and with cerebral blood supply monitoring.
Treatment of lower limb varicose vein disease.
Lower limb varicose vein disease is one of the most prevalent pathologies. At our Center, we perform surgical procedures with the use of latest-generation laser equipment.
Operations are performed using local anesthesia and under ultrasonic control. These are so-called "one-day" operations.
CONTRAINDICATIONS
acute cerebral blood circulation insufficiency or myocardial infarction (occurring less then tree months ago);
instable cardiac angina;
overall affliction of the distal blood stream which offers no possibility for corrective surgery;
chronic diseases at the acute stage;
advanced age of the patient.
PREPARATION FOR SURGERY INTERVENTION
Laboratory tests: complete and biochemical blood assay, general urine test, blood coagulation test.
Radiological studies: X-ray fluorogrpaphy;
ECG.
The consulting physician may appoint additional examinations.
HOW TO GET SURGICAL TREATMENT OF VESSELS AT THE RCMC
Call 8 (017) 543-43-88 – (interns' room) to make an appointment for a consultation
Come to the consultation on time.
On the day of the procedure conclude a contract for the provision of paid services at the registry.
Pay the invoice at the cash desk of the RCMC or via ЕРИП (SSIS: Single Settlement and Information Space)
Branch services
The information presented in this Price List is for guidance only. Some services are provided only in conjunction with other services. Therefore, the final price may differ from those presented on this site when contacting a medical center to conclude a contract for the provision of medical services.
Сосудистая хирургия
Вверх
Услуга
цена для граждан:
беларуси
снг
остальных стран
Каротидная эндартерэктомия из сонных артерий
626 р. 62 к.
1233 р. 95 к.
1233 р. 95 к.
Анестезиологическое пособие
616 р. 91 к.
1302 р. 36 к.
1302 р. 36 к.
Эндовазальная лазерная коагуляция поверхностных вен при варикозной болезни под ультразвуковым контролем (CERALAS)
1315 р.
1670 р. 15 к.
1670 р. 15 к.
Эндовазальная лазерная коагуляция поверхностных вен при варикозной болезни под ультразвуковым контролем (LEONARDO)
1185 р.
1535 р. 75 к.
1535 р. 75 к.