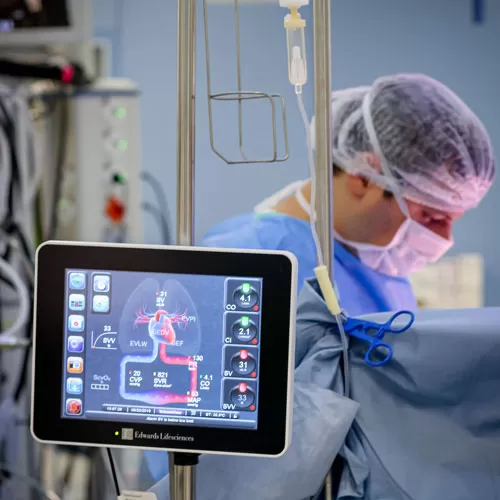 Blood assist systems
These systems are used to support blood circulation in patients affected by acute and potentially reversible respiratory, cardiac or cardiorespiratory insufficiencies that are not responsive to standard therapy.
INDICATIONS TO APPLICATION OF BLOOD ASSIST SYSTEMS
These devices are used in patients affected by pronounced cardiac and respiratory insufficiencies immediately during or after a surgical intervention.
BLOOD ASSIST SYSTEMS USED BY THE RCMC
Intra-aortic balloon counterpulsation (IABP) is a modern blood circulation support technique, which makes it possible to improve blood supply and the pumping ability of the left ventricular.
Extracorporeal membrane oxygenation (ECMO) is a technology-intensive technique which enables continuous support of vital bodily functions, breathing and blood circulation in particularly complicated cases.
PREPARATION FOR A CARDIOVASCULAR SURGERY INTERVENTION
Not required.
HOW TO GET CARDIAC SURGERY TREATMENT AT THE RCMC
Call the Contact Center to make an appointment for a consultation with the head of the cardiac surgery department.
Come to the consultation on time.
On the day of the procedure conclude a contract for the provision of paid services at the registry.
Pay the invoice at the cash desk of the RCMC or via ЕРИП (SSIS: Single Settlement and Information Space)