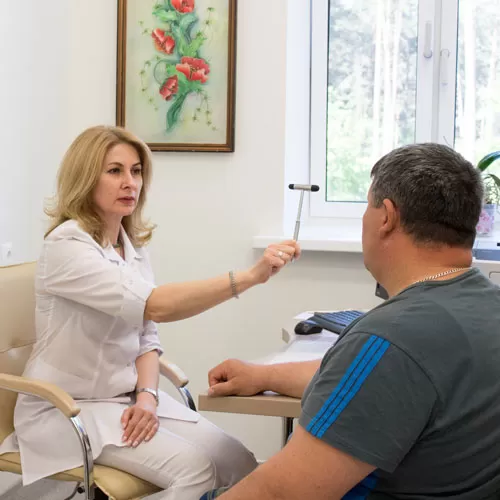 Neurology
According to figures provided by WHO, millions of individuals are affected by neurological disorders. Morbidity caused by cerebral accidents numbers in over six million cases annually. 47.5 million individuals are afflicted by dementia; and every year 7.7 million new cases are registered. Global hemicrania prevalence exceeds 10% of population. Sleeping disorders account for the same percentage. Many of the above disorders can be cured or, at the least, corrected if the health problem is dealt with in a timely manner by submitting to a neurological examination and undergoing therapy.
SI "RCMC" offers the following services to patients affected by neurological disorders:
NEUROLOGICAL DISORDER DIAGNOSTICS AND TREATMENT CAPABILITIES OF THE RCMC
The Neurology Department of the RCMC provides services in the following areas:
Advantages of treatment and rehabilitation procedures performed at the RCMC:
The patient's rehabilitation is managed by a multidisciplinary team of medical specialists, with the first consultation conducted on the day of admission followed by status monitoring throughout the duration of the program.
The Rehabilitation Department employs advanced modern equipment and robotic systems that feature biofeedback.
Round-the-clock monitoring and supervision of patients by medical specialists and nurses.
Capability to consult the patient immediately following the discharge from the inpatient facility.
Instruction of the patient on living regimen following a previous cerebral accident to prevent the recurrence of the disease.
Personalized care.
Composition of an individual menu to provide dietetic service, and development of a control observation schedule.
Patient rooms are fitted out with novel medical equipment.