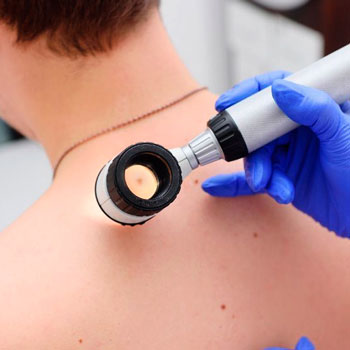 Dermatovenereology
Office
The Dermatology Office has all the equipment necessary to provide services to outpatients.
MEDICAL SERVICES PROVIDED BY DERMATOLOGY OFFICE SPECIALISTS
The Dermatology Office provides diagnostics, treatment and ongoing monitoring of the following skin and skin appendage pathologies:
fungal dermatitis;
mycosis, foot and hand onychomycosis;
toxicodermatosis;
allergic contact dermatitis;
pyodermatosis;
furunculosis;
acne vulgaris; acne rosacea and acne erythematosa;
itching dermatosis (eczema, neurodermatitis, atopic dermatitis) etc.
Among other areas, we focus specifically on systemic treatment of foot and hand onychomycosis using antimycotic preparations for internal use and external application.
РCertain examinations (for demodecosis, mycotic nail and skin lesions, deep mycosis etc.) are performed at the Laboratory of SI "Municipal Clinical Dermatovenerologic Dispensary".
TERMS OF SERVICE PROVISION
Our skin specialist receives patients under health care service contracts and private health insurance programs.
The Office is open on Tuesdays and Thursdays, from 8:00 till 20:00, and operates in two shifts.
To make an appointment with a dermatologist and for reference information, please contact the Contact Center: 8 (017) 543-44-44 and 8 (029) 543-44-45.
Senatorova Yana Valeryevna
Dermatovenerologist