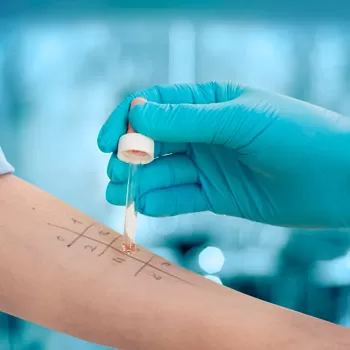 MEDICAL SERVICES PROVIDED BY ALLERGIOLOGY OFFICE SPECIALISTS
The Allergiology Office is a part of the Outpatient Consultation Department of RCHCC. Initial outpatient reception involves assessment of the patient's clinical condition, their differential diagnosis, substantiation of diagnosis, developing the plan and tactics of patient treatment in accordance with allergic disease patient examination and treatment guidelines (standards).
Allergiology Office performs drop, skin scarification, intracutaneous, skin patch, conjunctival and sublingual tests. Diagnosis verification is supplemented by laboratory studies, respiratory function tests that may include bronchial dynamics tests, and X-ray and magnetic resonance imaging. Where necessary, specialists of other profiles are consulted: otolaryngologist, ophthalmologist, dermatologist etc.
Allergiology Office provides specific immunotherapeutic procedures using pollen and domestic allergens.
Based on indications, patients suffering from allergic pathologies may be treated at the Therapy Department of the Center.
TERMS OF SERVICE PROVISION
Citizens of the Republic of Belarus and foreign nationals may consult an allergy specialist on a paid basis, based on the medical indications, as part of the Screening Assay programs and under private health insurance programs.
For reference information, you can use the services of the Contact Center: 8 (017) 543-44-44 and 8 (029) 543-44-45.
Emeliantseva Alexandra Alexandrovna
Head of the Outpatient Advisory Department