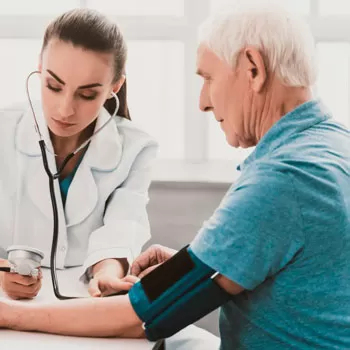 The fast pace of modern life, permanent stress, environmental degradation, sedentary lifestyle, excessive weight, smoking and alcohol consumption are all factors contributing to the development of cardiovascular disorders.
Cardiovascular disorders are among the most widespread medical conditions around the globe, and one of the main causes of premature mortality.
If you notice any symptoms of a heart condition (chest pains under a physical or emothional stress, racing heart, troubled cardiac function, labored breathing under load, elevated arterial blood pressure), you should visit a cardiologist. Heart conditions should be detected promptly and treated only by professionals.
MEDICAL SERVICES PROVIDED BY THE CARDIOLOGY OFFICE SPECIALISTS
The Cardiology Office operating at SI RCHCC as part of Outpatient Consultation Department provides cardiac care.
Highest Qualification Grade specialists provide advisory assistance to patients suffering coronary heart disease, arterial hypertension, rhythm disturbance, conduction abnormalities and other cardiovascular system disorders, as well as post- cardiovascular surgery services.
In our work, we use diagnostic capabilities provided by top-notch equipment of the Clinical Center:
electrocardiography;
echocardiography;
24-hour monitoring of arterial pressure with electrocardiography;
all types of laboratory diagnostics;
exercise ECG tests, etc.
Our Office cooperates closely with the inpatient facility's Cardiology Department.
In our practice, we also employ widely the capacities provided by the Medical Rehabilitation Department..
Following the results of examination, the patient is issued a medical report which contains detailed recommendations.
TERMS OF SERVICE PROVISION
Cardiology specialists receive patients under health care service contracts and private health insurance programs.
The Office is open daily, from 8:00 till 20:00, and from 9:00 till 15:00 on Saturday once monthly.
Please note:
Patients are referred to the cardiology specialist after the following preliminary examinations:
lipid profiling test (cholesterol, triglycerids, LDL, HDL);
electrocardiography;
ultrasound of the heart.
To make an appointment with a cardiologist and to receive a referral for a preliminary examination contact the Contact Center: 8 (017) 543-44-44 and 8 (029) 543-44-45.
Dovnar Nelly Marianovna
Cardiologist
Podkovyrova Olga Vyacheslavovna
Cardiologist