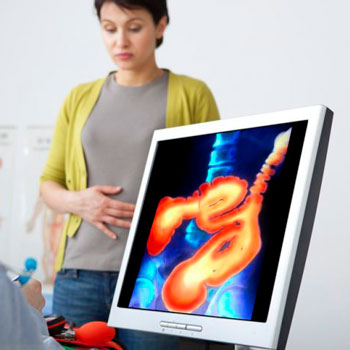 Gastroenterology Office is the part of the Outpatient Consultation Department which provides specialized preventive, diagnostic and treatment health care services to patients suffering from digestive organ disorders.
MEDICAL SERVICES PROVIDED BY THE GASTROENTEROLOGY OFFICE SPECIALISTS
The Gastroenterology Office of the Outpatient Consultation Department offers the service of 13С urea breath test using HeliFАNplus breath analyzer (Germany). A major advantage of this method is that it does not require the use of an endoscope. All that is needed is the air exhaled by the patient! The test's sensitivity and specificity is 92 to 95%.
Health care services are compliant with global standards, they conform to current diagnosis and treatment guidelines and are in line with science-based medicine methods.
Based on indications, patients suffering from digestive organ pathologies may be referred to the Therapy Department, at the Center's inpatient facilities.
At SI RCHCC, we use advanced study methods to carry out diagnostics of digestive organ disorders:
laboratory testing procedures;
abdominal organ ultrasonography procedures;
needle liver biopsy (both percutaneous ultrasonography-controlled biopsy and laparoscopic biopsy);
multislice X-ray computed tomography;
shear-wave elasticity imaging and strain elastography;
bacteriologic testing procedures;
full range of diagnostic and treatment endoscopic examinations carried out with anaesthetic support;
endoscopic ultrasound imaging.

TERMS OF SERVICE PROVISION
Citizens of the Republic of Belarus and foreign nationals may consult a gastroenterologist on a paid basis, based on the medical indications, as part of the Screening Assay programs and under private health insurance programs.

Please note:
Patients are referred to a gastroenterology specialist after the following preliminary examinations:
general biochemical blood assay;
endoscopic examination of the digestive tract;
abdominal organ ultrasonography.
For reference information, you can use the services of the Contact Center: 8 (017) 543-44-44 and 8 (029) 543-44-45.
Lyutikova Olga Vyacheslavovna
Gastroenterologist