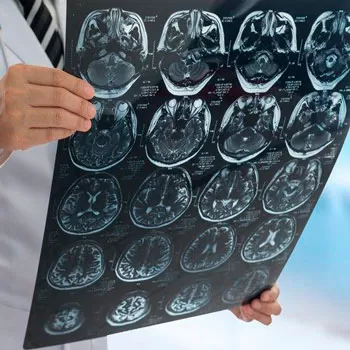 Neurology Office
and the ancillary Vestibular Laboratory
MEDICAL SERVICES PROVIDED BY THE NEUROLOGY OFFICE SPECIALISTS
The Neurology Office and the ancillary Vestibular Laboratory provide specialized outpatient help to assigned patients affected by nervous disorders.
The Neurology Office of the Center employs three neurology specialists.
The main focus area of the Office involves diagnostics, treatment, rehabilitation and follow-up monitoring of neurology patients.
We provide our services in cooperation with the Therapy Department's inpatient facilities. In our practice, we also actively employ the capacities provided by Medical Rehabilitation Department. For each patient, we select, on an individual basis, modern pharmacological and drug-free treatment programs. Such treatment includes massage, manipulative therapy, physical therapy, electro-, thermo- and phototherapy, underwater traction, needle therapy, procedures performed in the balneary, sauna and pool, psychotherapy, remedial gymnastics and weight exercises.
Medical professionals of the Neurology Office use the considerable diagnostics facilities of the Center: computer-assisted X-ray tomography, X-ray imaging, magnetic resonance imaging, stations for ultrasonic study of brachycephalic vessels, laboratory procedures, electroencephalography and vestibulopathy (dizziness) diagnostics.
TERMS OF SERVICE PROVISION
Neurology specialists receive patients under health care service contracts and private health insurance programs.
The Office is open daily, from 8:00 till 20:00, and from 9:00 till 15:00 on Saturdays.
To make an appointment for a paid appointment with a neurologist and get background information, please contact the Contact Center: 8 (017) 543-44-44 and 8 (029) 543-44-45.
Gorodkov Ruslan Ludvigovich
Neurologist
Kupka Natalia Alexandrovna
Neurologist
Kopytok Irina Nikolaevna
Neurologist