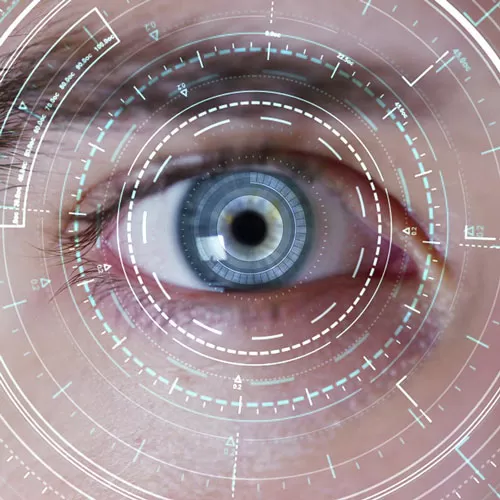 Laser eye microsurgery
The advanced equipment and highly skilled specialists of the Ophthalmology Department make it possible to perform diagnostics and treatment of the visual organ at the highest level of efficiency.
Laser eye microsurgery is one of the essential and promising direction in therapy of glaucoma, secondary membranous cataract, retina pathologies associated with myopia, diabetes mellitus complications, vascular abnormalities, dystrophies, and retinal tears and detachment.
LASER EYE MICROSURGERY PERFORMED AT THE RCMC
Laser treatment of retina disorders associated with diabetes mellitus

Of all the clinical implications of diabetic eye diseases, retinopathy presents the highest level of hazard to the visual organ (70 to 80%) since it is the cause of a progressive non-recoverable impairment of visual acuity right down to complete loss of eyesight.

Laser coagulation is the golden standard of diabetic retinopathy therapy. According to World Health Organization, this procedure allows to preserve eyesight in about 70% of cases. Laser coagulation does not result in visual acuity impairment; it may be performed on outpatients, and it also may be repeated in cases of diabetic changes.

One essential advice to patients affected by diabetes mellitus is to consult an ophthalmologist, even if there are no complaints to eye condition.
Laser treatment of glaucoma

The treatment is aimed at preserving the remaining visual functions, and thus should commence at the first opportunity.

Modern glaucoma therapy begins with instillation of eye drops that reduce introcular pressure. If intraocular pressure cannot be compensated, the physician may make a decision to perform a laser procedure. However, in some clinical cases, glaucoma therapy starts immediately with a laser microsurgery operation.

There are several types of glaucoma that determine the method of laser treatment of the specific patient.

The types of laser therapy are:

Laser iridectomy
This type of closed-angle glaucoma therapy procedure creates a direct connection between the anterior and posterior chambers of the eye.
Laser intervention (iridectomy) is also used as a powerful preventive measure in patients with specific structure features of eyes that are exposed to elevated risks of an acute attack of glaucoma (short eyes, large eye lenses, hyperopic (farsighted) refraction. The procedure makes it possible to prevent the risk of sharp increase of intraocular pressure.

Open-angle glaucoma is a disorder characterized by the occurrence of a symptom complex typical for glaucoma against the background of an anatomically open angle of the anterior chamber.


Laser trabeculoplasty
During the operation of laser open-angle glaucoma microsurgey, angle trabecules of the anterior chamber are mechanically cleansed, and processes of fluid excretion are stimulated by biological and biochemical action.





It is important to follow physician's recommendations carefully, and trust them to provide the best possible medical assistance. Self-therapy may be deleterious to a patient affected by glaucoma.
Laser therapy of peripheral retinal degeneration, retinal tears and detachment that is, of severe retina changes that threaten visual acuity impairment down to complete loss of eyesight.

Barrier laser coagulation is performed around areas of vitreo-chorioretinal dystrophies, ruptures and local detachments of retina.
Laser therapy of retinal vein thromboses the so-called eye ground vascular catastrophes that involve acute and, frequently, irreversible deterioration of visual functions. If not treated, thromboses may lead to loss of the eye.

During the therapy procedure, laser coagulation of the post-thrombotic retinopathy areas is performed.

Therapy results in visual function stabilization, and a reduced risk of delayed thrombosis complication development, which may result in complete loss of eyesight.
Laser treatment of secondary membranous cataract and complications associated with the implantation of an artificial intraocular lens that are not uncommon after an operative cataract therapy.

If not treated, these complications may result in significant impairment of visual acuity. Laser discission is a painless, noninvasive laser operation which does not require hospitalization and a stay at inpatient facilities. If performed correctly, the effect of the operation is immediately evident to the patient.
Focal laser coagulation of the leak point in central serous chorioretinoscopy.

PREPARATION FOR SURGERY INTERVENTION
In each specific case, preparation is determined individually by the physician.
HOW TO GET LASER EYE MICROSURGERY AT THE RCMC
Call the Contact Center to make an appointment with an ophthalmologist
Conclude a contract for the provision of paid services at the registry.
Pay the invoice at the cash desk of the RCMC or via ЕРИП (SSIS: Single Settlement and Information Space)
Come to the consultation on time.
Branch services
The information presented in this Price List is for guidance only. Some services are provided only in conjunction with other services. Therefore, the final price may differ from those presented on this site when contacting a medical center to conclude a contract for the provision of medical services.
Лазерная микрохирургия глаза
Вверх
Услуга
цена для граждан:
беларуси
снг
остальных стран
Лазерная деструкция волосяного фоликула (1 глаз, 1 сеанс)
45 р. 28 к.
66 р. 90 к.
66 р. 90 к.
Лазерная дисцизия при вторичной пленчатой катаракте (1 сеанс, 1 глаз)
65 р. 64 к.
95 р. 91 к.
95 р. 91 к.
Лазерная коагуляция новообразованных сосудов роговицы (1 глаз, 1 сеанс)
48 р. 35 к.
69 р. 97 к.
69 р. 97 к.
Лазерная коагуляция сетчатки при объёмных образованиях оболочек глаза (1 сеанс, 1 глаз)
83 р. 01 к.
121 р. 93 к.
121 р. 93 к.
Лазерная синехиотомия (1 глаз, 1 сеанс)
65 р. 64 к.
95 р. 91 к.
95 р. 91 к.
Лазерные микрохирургические операции при близорукости высокой степени (1 глаз, 1 сеанс)
91 р. 66 к.
134 р. 90 к.
134 р. 90 к.
Лазерные микрохирургические операции при глаукоме первичной закрытоугольной, вторичной, врожденной, юношеской (1 глаз, 1 сеанс)
48 р. 35 к.
69 р. 97 к.
69 р. 97 к.
Лазерные микрохирургические операции при глаукоме первичной открытоугольной - лазерная трабекулопластика классическая (1 глаз, 1 сеанс)
82 р. 94 к.
121 р. 86 к.
121 р. 86 к.
Лазерные микрохирургические операции при глаукоме первичной открытоугольной-лазерная трабекулопластика микроимпульсная(1глаз, 1 сеанс)
80 р. 44 к.
118 р. 11 к.
118 р. 11 к.
Лазерные микрохирургические операции при диабетической ретинопатии (1 глаз, 1 сеанс)
100 р. 31 к.
147 р. 88 к.
147 р. 88 к.
Лазерные микрохирургические операции при периферической дистрофии сетчатки, ретиношизисе, разрывах и отслойке сетчатки (1 глаз, 1 сеанс)
83 р. 01 к.
121 р. 93 к.
121 р. 93 к.
Лазерные микрохирургические операции при сосудистых заболеваниях (1 глаз, 1 сеанс)
91 р. 66 к.
134 р. 90 к.
134 р. 90 к.
Лазерные микрохирургические операции при центральной серозной хориоретинопатии (1 глаз, 1 сеанс)
48 р. 42 к.
70 р. 04 к.
70 р. 04 к.