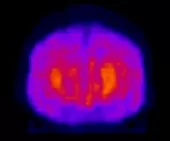 Radionuclide brain examination
SPECT-CT is the analysis of regional cerebral blood flow in cases of cerebral accidents, epilepsy, transient ischemic attacks, mental disorders and head injuries.
INDICATIONS FOR THE EXAMINATION
Diagnostics of regional cerebral blood flow impairments in patients affected by cerebrovascular disorders (cerebral accidents, carotid artery occlusion, transient abnormalities of cerebral blood flow, hemicrania, cerebral tumors), and differential diagnostics of dementia.
Identification of brain cortex areas suffering reduced blood circulation to evaluate the degree of severity.
THE PROCEDURE OF RADIONUCLIDE BRAIN EXAMINATION
Before the procedure, a radiopharmaceutical agent is administered to the patient. The radioactive isotope first passes with blood to the endothelium of altered cerebral vessels and after that -- into the interstitial space of the affected area. After that the substance accumulates in cells of the affected site. Some time after that, radioisotopic examination (scintigraphy or SPECT-CT) results are recorded and analyzed.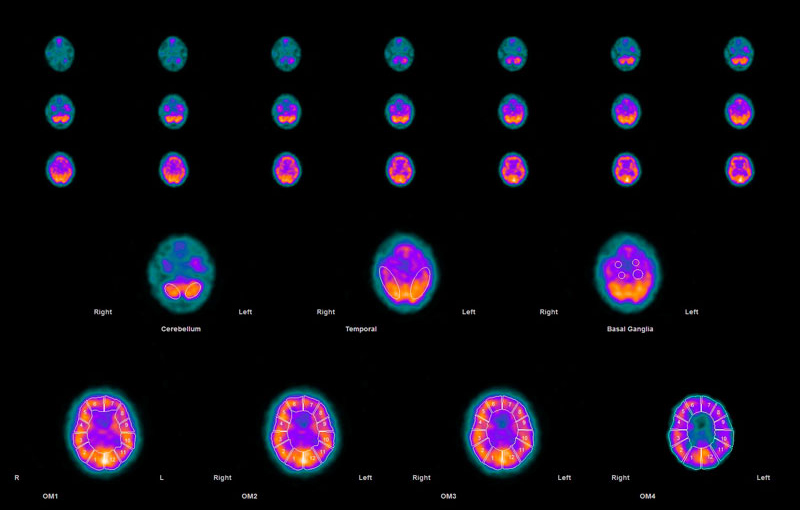 CONTRAINDICATIONS:
Absolute contraindications:
hypersensitivity to the active substance or excipients;
febrile conditions;
relative contraindications:
breast feeding;
claustrophobia.
PREPARING FOR THE TEST
Before the test, the patient shall be in a rested state.
Administration of pharmaceuticals that affect cerebral blood flow shall be suspended (following a consultation with the physician).
HOW CAN I HAVE A RADIONUCLIDE BRAIN EXAMINATION AT THE CENTER?
To be eligible for the examination, you will need a referral from your physician.
Call the Contact Center or the Isotope Laboratory at the numbers (8 (017) 543-42-23 and 8 (017) 543-42-19, from 8:00 till 14:00 during the weekdays to make a reservation.
Be at the Center at the appointed time.
Fill in and sign a paid service contract at the Reception.
Pay the bill at the RCMC pay office, or through the ERIP electronic payment system.
Collect the examination report and the Isotope Laboratory report.
Branch services
The information presented in this Price List is for guidance only. Some services are provided only in conjunction with other services. Therefore, the final price may differ from those presented on this site when contacting a medical center to conclude a contract for the provision of medical services.
Радионуклидное исследование головного мозга
Вверх
Услуга
цена для граждан:
беларуси
снг
остальных стран
ОФЭКТ головного мозга
107 р. 28 к.
141 р. 31 к.
141 р. 31 к.
ОФЭКТ головного мозга (после статистического обследования)
79 р. 43 к.
113 р. 46 к.
113 р. 46 к.
ОФЭКТ головного мозга совмещенная с КТ
128 р. 04 к.
170 р. 98 к.
170 р. 98 к.
Сцинтиграфия статическая головного мозга (4 проекции)
98 р. 42 к.
128 р. 66 к.
128 р. 66 к.