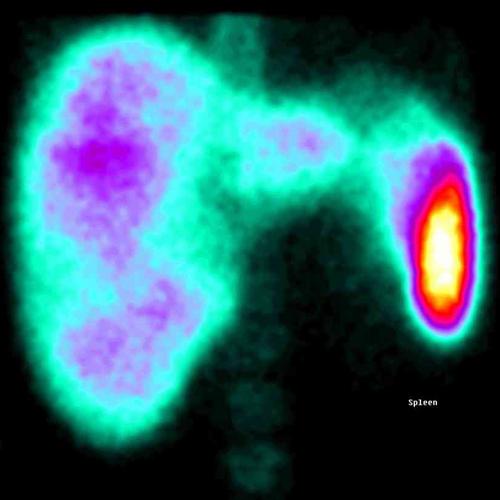 Liver and spleen examination
The study provides information about the functioning of the organ and quantitative characteristics of the the degree of its damage at very early stages.
INDICATIONS FOR THE EXAMINATION
Diagnostics of inflammatory and metabolic disorders of liver;
identification of congenital anomalies and development defects of liver;
abdominal syndrome of unknown etiology;
assessment of parenchyma status in diffuse diseases (degenerative changes, cirrhoses, injuries, etc.);
local extensive lesions (metastases, tumors, abscesses, cystic lesions, hematomas, etc.);
conditions after various surgical interventions in the abdominal area (transplantations, etc.).
THE PROCEDURE OF RADIOISOTOPIC LIVER AND SPLEEN EXAMINATION
With the patient immobile, functional activity of the reticuloendothelial system of liver is evaluated. A colloid solution is administered to the patient. If the organs function normally, the colloid spreads within liver and spleen evenly.
CONTRAINDICATIONS:

Absolute contraindications:
pregnancy;
hypersensitivity to the active substance or excipients;
febrile conditions;
Relative contraindications: breast feeding.
PREPARING FOR THE TEST
The test is performed on an empty stomach (fasting for at least four hours).
HOW CAN I HAVE A RADIOISOTOPIC LIVER AND SPLEEN EXAMINATION AT THE CENTER?
To be eligible for the examination, you will need a referral from your physician.
Call the Contact Center or the Isotope Laboratory at the numbers (8 (017) 543-42-23 and 8 (017) 543-42-19, from 8:00 till 14:00 during the weekdays to make a reservation.
Be at the Center at the appointed time.
Fill in and sign a paid service contract at the Reception.
Pay the bill at the RCMC pay office, or through the ERIP electronic payment system.
Collect the examination report and the Isotope Laboratory report.