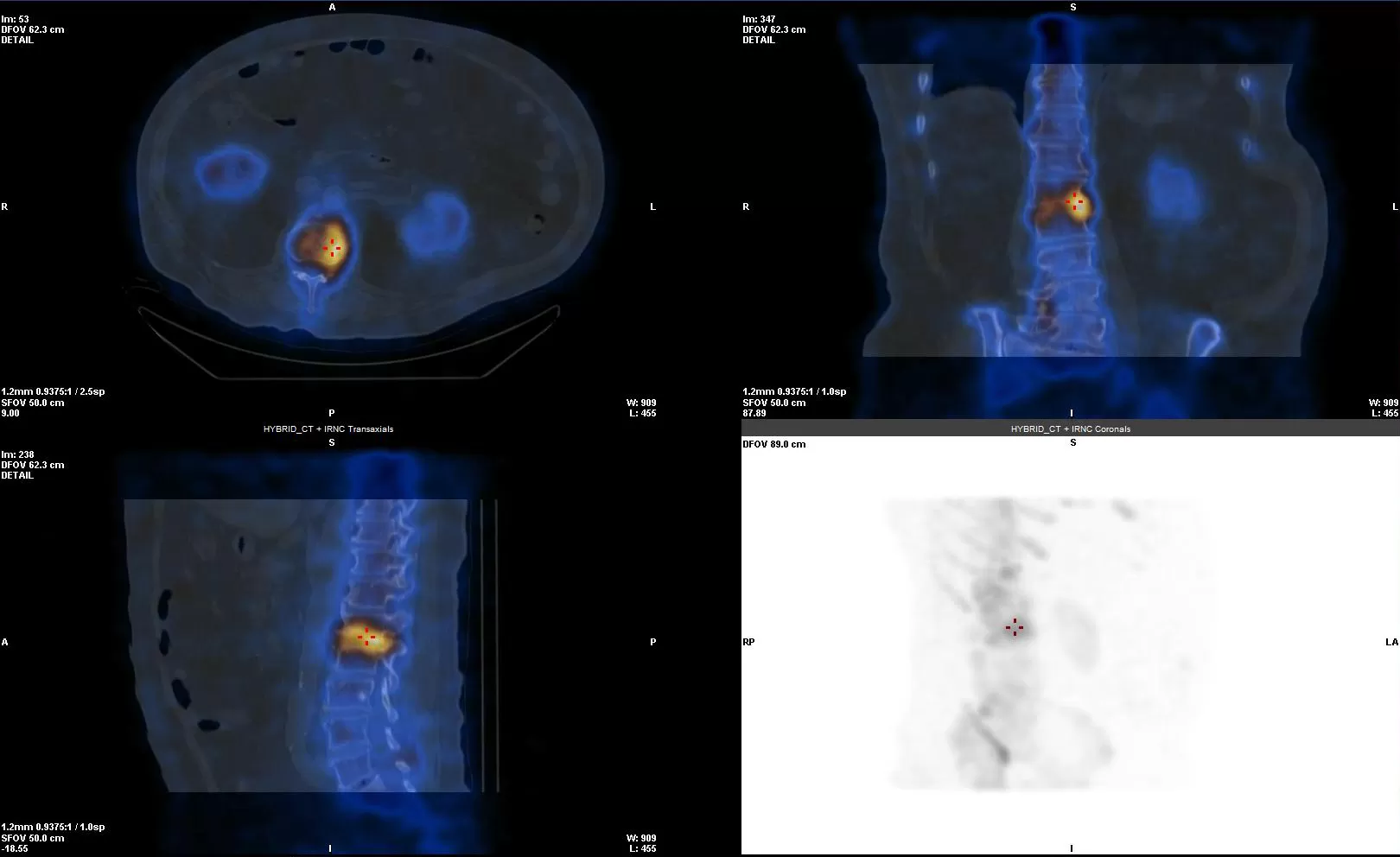 Bones and joints examination
Scintigraphy of bones and joints, or osteoscintigraphy (sectional scanning of the skeleton; three-phase dynamic examination)
Osteoscintigraphy (skeletal bone scanning) High diagnostic accuracy of the method is due to the ability to visualize as little as 30% changes caused by bone calcium loss (X-ray imaging allows for the detection of at least 50% calcium loss).
INDICATIONS FOR THE EXAMINATION
Assessment of destructive/reparative processes associated with rheumatoid arthritis, rheumatic arthritis, arthrosis, osteochondrosis and spondilodiscitis;
generation of post-injury images of the skeleton, bone pain of unidentified nature, hidden traumas;
ongoing evaluation of specific characteristics of inflammatory processes associated with a fracture (it is possible to generate images under a plaster cast);
studying the activity of inflammatory processes in bones to identify an aggravation of chronic osteomyelitis and evaluate the effectiveness of therapy;
analysis of the intensiveness of mineral metabolism in cases of systemic bone and joint diseases;
studying postoperative osteogenesis, determining functional suitability of transplants, endoprostheses etc.;
identification of secondary changes of bone structures associated with mammal and prostate gland tumors, bronchial carcinoma etc.;
staging of the process and assessment of treatment response, observation of primary bone tumors (Ewings sarcoma etc.) and Paget's disease;
diagnosis of benign tumors of the bone system (osteoid osteomas);
monitoring the distribution of the osteoblastic activity under radionuclide metabolic therapy (89Sr, 153Sm-EDTMP, 186Re-HEDP);
diagnostics of soft tissue disorders (myositis etc.).
THE PROCEDURE OF RADIOISOTOPIC SKELETON EXAMINATION
Before the procedure, a radiopharmaceutical agent is administered to the patient. The substance accumulates in the skeletal system for certain tine. Some time after that, radioisotopic examination (scintigraphy or SPECT-CT) results are recorded and analyzed.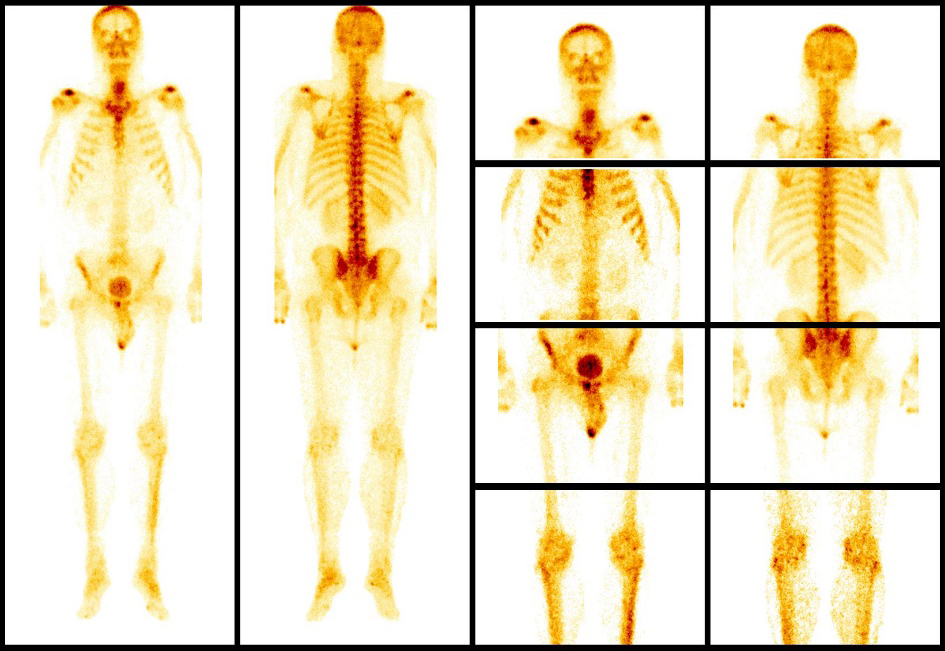 CONTRAINDICATIONS:
Absolute contraindications: pregnancy; hypersensitivity to the active substance or excipients; febrile conditions;
Relative contraindications: breast feeding.
PREPARING FOR THE TEST
No special preparation is required. We recommend:
Wear clothes that do not have any large decorations (buttons, stones, buckles, zip fasteners, etc.);
if the patient is unable to maintain a stationary position for a long time (up to 25 minutes) due to a painful condition, they may be administered an anesthetic pharmaceutical (based on a consultation with physician);
we recommend you to bring along and drink about 1 to 1.5 liters of any drinking liquid following the injection and before scanning (if there are no contraindications to increased liquid intake);
patients undergoing chemotherapy, radiotherapy or taking pharmaceuticals that contain zoledronic, ibandronic or alendronic acid or other bisphosphonates should undergo the examination no sooner than three weeks since the last administration/session/therapy program completion.
HOW CAN I HAVE A RADIOISOTOPIC SKELETON EXAMINATION AT THE CENTER?
To be eligible for the examination, you will need a referral from your physician.
Call the Contact Center or the Isotope Laboratory at the numbers (8 (017) 543-42-23 and 8 (017) 543-42-19, from 8:00 till 14:00 during the weekdays to make a reservation.
Be at the Center at the appointed time.
Fill in and sign a paid service contract at the Reception.
Pay the bill at the RCMC pay office, or through the ERIP electronic payment system.
Collect the examination report and the Isotope Laboratory report.
Branch services
The information presented in this Price List is for guidance only. Some services are provided only in conjunction with other services. Therefore, the final price may differ from those presented on this site when contacting a medical center to conclude a contract for the provision of medical services.
Радионуклидное исследование костей скелета
Вверх
Услуга
цена для граждан:
беларуси
снг
остальных стран
ОФЭКТ скелета
107 р. 28 к.
141 р. 31 к.
141 р. 31 к.
ОФЭКТ скелета (после статистического обследования)
79 р. 43 к.
113 р. 46 к.
113 р. 46 к.
ОФЭКТ скелета совмещенная с КТ
129 р. 53 к.
173 р. 11 к.
173 р. 11 к.