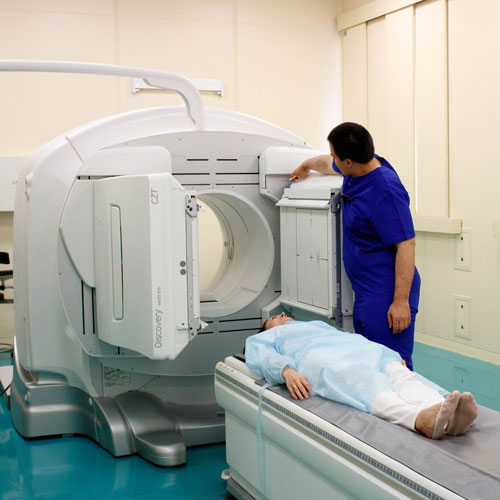 Kidney examination (static)
Static planar study of the kidneys and SPECT / CT is a study of the anatomical and topographic features of the kidneys, developmental anomalies, the functional state of the renal parenchyma, and the detection of renal cicatricial lesions. Static kidney scintigraphy, characterized by high accuracy and sensitivity, allows visualization of the kidneys both in the abdominal cavity and in the pelvic region.
INDICATIONS FOR THE EXAMINATION
evaluating the size, shape and position of the kidneys
identification of congenital renal anomalies, the presence of uni- and bilateral renal pathology;
identification of cicatricial or other lesions of the cortical layer in pyelonephritis
visualization of a non-functioning kidney with intravenous urography
demonstration of ectopic renal tissue
preparation for transplantation and kidney surgery
assessment of viability after trauma / transplantation, with nephrosclerosis.
THE PROCEDURE OF KIDNEYS EXAMINATION
The study begins 20-60 minutes after the introduction of the radioactive substance. A gamma camera, in which the patient is placed, records the radiation emitted by previously administered drugs for a certain time. With the help of the information received, the doctor can make an accurate diagnosis and prescribe an appropriate treatment.
CONTRAINDICATIONS:
Absolute: Pregnancy. Hypersensitivity to the active substance or excipients. Fibril conditions.
Relative: breastfeeding
PREPARATION FOR RESEARCH
No special training is required.
HOW CAN I HAVE A RADIONUCLIDE KIDNEYS EXAMINATION AT THE CENTER?
To be eligible for the examination, you will need a referral from your physician.
Call the Contact Center or the Isotope Laboratory at the numbers (8 (017) 543-42-23 and 8 (017) 543-42-19, from 8:00 till 14:00 during the weekdays to make a reservation.
Be at the Center at the appointed time.
Fill in and sign a paid service contract at the Reception.
Pay the bill at the RCMC pay office, or through the ERIP electronic payment system.
Collect the examination report and the Isotope Laboratory report.
Branch services
The information presented in this Price List is for guidance only. Some services are provided only in conjunction with other services. Therefore, the final price may differ from those presented on this site when contacting a medical center to conclude a contract for the provision of medical services.
Радионуклидное исследование почек (статическое)
Вверх
Услуга
цена для граждан:
беларуси
снг
остальных стран
ОФЭКТ почек
86 р. 46 к.
120 р. 49 к.
120 р. 49 к.
ОФЭКТ почек (после статистического обследования)
79 р. 43 к.
113 р. 46 к.
113 р. 46 к.
ОФЭКТ почек совмещенная с КТ
148 р. 26 к.
256 р. 58 к.
256 р. 58 к.
Сцинтиграфия статическая почек (3 проекции)
79 р. 83 к.
111 р. 03 к.
111 р. 03 к.