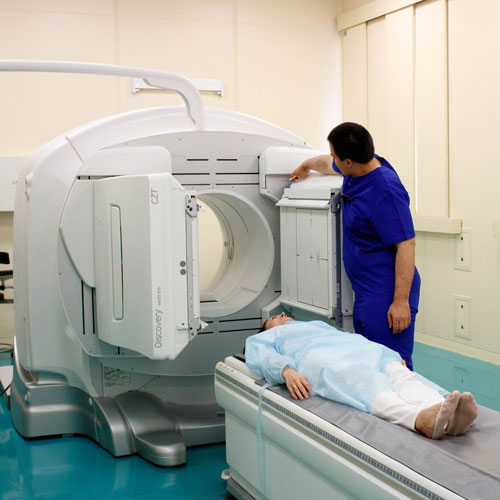 Lung examination
Lung static planar study and SPECT-CT is one of advanced high-accuracy techniques.
INDICATIONS FOR THE EXAMINATION
pulmonary artery embolism and myocardial infarction;
chronic circulatory insufficiency;
pulmonary tumor;
local pulmonary insufficiency and pneumonia.
THE PROCEDURE OF RADIOISOTOPIC LUNG EXAMINATION
Before the procedure, a radiopharmaceutical agent is administered to the patient. Some time after that, radioisotopic examination (scintigraphy or SPECT-CT) results are recorded and analyzed.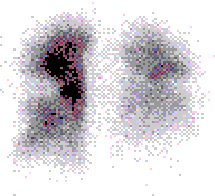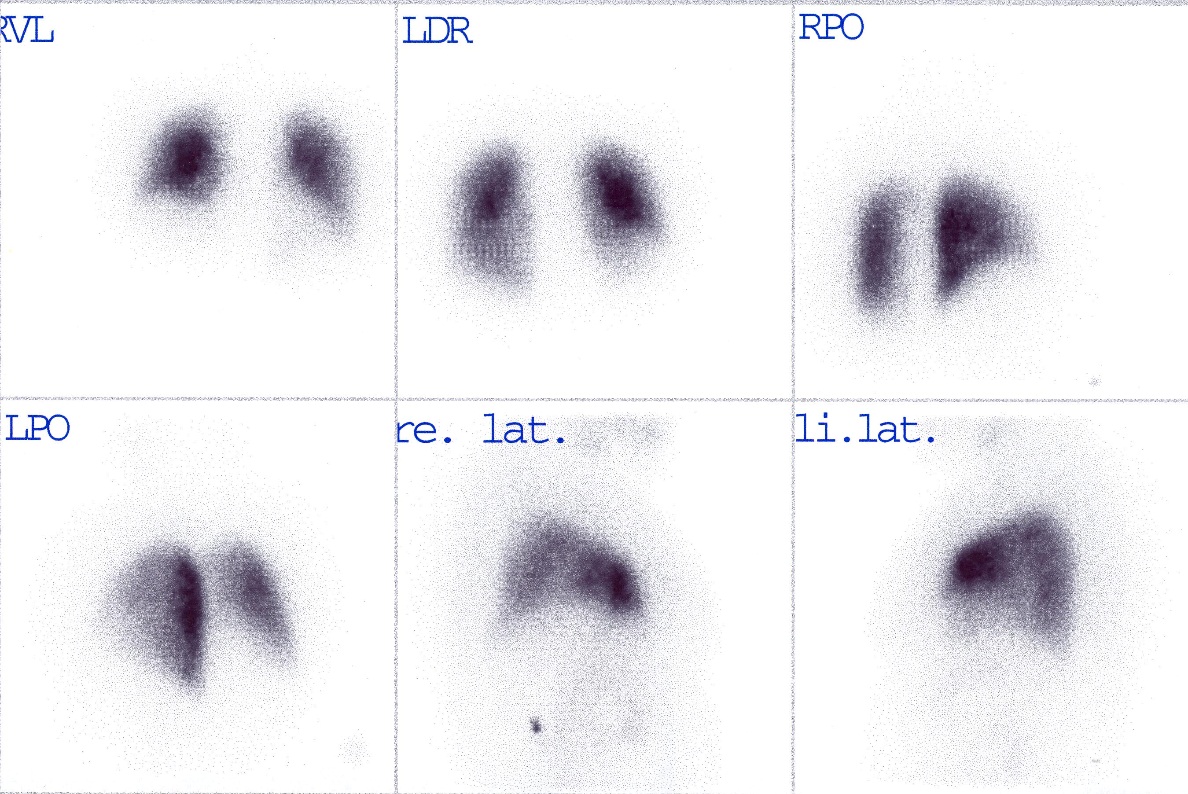 CONTRAINDICATIONS:
Absolute contraindications:
pregnancy;
proven allergic reactions to normal or aggregated human serum albumin as stated in medical history;
the circulatory effect; right-to-left shunt; severe pulmanory hypertension; asthmatic condition;
febrile conditions;
Relative contraindications:
breast feeding;
claustrophobia.
PREPARING FOR THE TEST
No special preparation is required.
HOW CAN I HAVE A RADIOISOTOPIC LUNG EXAMINATION AT THE CENTER?
To be eligible for the examination, you will need a referral from your physician.
Call the Contact Center or the Isotope Laboratory at the numbers (8 (017) 543-42-23 and 8 (017) 543-42-19, from 8:00 till 14:00 during the weekdays to make a reservation.
Be at the Center at the appointed time.
Fill in and sign a paid service contract at the Reception.
Pay the bill at the RCMC pay office, or through the ERIP electronic payment system.
Collect the examination report and the Isotope Laboratory report.
Branch services
The information presented in this Price List is for guidance only. Some services are provided only in conjunction with other services. Therefore, the final price may differ from those presented on this site when contacting a medical center to conclude a contract for the provision of medical services.
Радионуклидное исследование легких
Вверх
Услуга
цена для граждан:
беларуси
снг
остальных стран
ОФЭКТ легких
97 р. 14 к.
136 р. 87 к.
136 р. 87 к.
ОФЭКТ легких (после статистического обследования)
79 р. 43 к.
113 р. 46 к.
113 р. 46 к.
ОФЭКТ легких совмещенная с КТ
106 р. 11 к.
149 р. 69 к.
149 р. 69 к.
Сцинтиграфия статическая легких (перфузионная) (6 проекций)
91 р. 17 к.
128 р. 35 к.
128 р. 35 к.