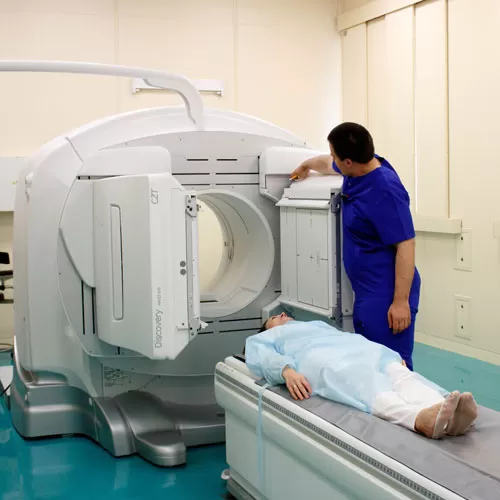 Salivary gland examination
Scintigraphy allows to test salivary glands for pathologies long before any morphological evidences detectable using X-ray imaging or ultrasonography become available.
INDICATIONS FOR THE EXAMINATION
Inflammatory, dystrophic and tumoral lesions of salivary glands;
assessment of the functional status of salivary glands in the course of therapy of various disorders: salivary adenites, sialolithiasis and Sjogren disease.
THE PROCEDURE OF RADIONUCLIDE SALIVARY GLAND EXAMINATION
A radio pharmaceutical is introduced to the patient's vein. The agent spreads to organs and tissues via blood vessels, and reaches the examined target organ. Using a gamma-ray chamber, a dynamic sequence of static images is recorded at a selected exposure. The examination offers simultaneous visualization of all the salivary glands to enable quantitative and quantitative assessment of their function.
CONTRAINDICATIONS:
Absolute contraindications: pregnancy; hypersensitivity to the active substance or excipients; febrile conditions;
Relative contraindications: breast feeding.
PREPARING FOR THE TEST
HOW CAN I HAVE A RADIONUCLIDE SALIVARY GLAND EXAMINATION AT THE CENTER?
To be eligible for the examination, you will need a referral from your physician.
Call the Contact Center or the Isotope Laboratory at the numbers (8 (017) 543-42-23 and 8 (017) 543-42-19, from 8:00 till 14:00 during the weekdays to make a reservation.
Be at the Center at the appointed time.
Fill in and sign a paid service contract at the Reception.
Pay the bill at the RCMC pay office, or through the ERIP electronic payment system.
Collect the examination report and the Isotope Laboratory report.
The test is performed on an empty stomach (fasting for at least four hours);
before the test, refrain from taking pharmaceuticals, do not brush teeth or chew gum;
it is recommended to stay away from locations where food is prepared or eating areas.
Branch services
The information presented in this Price List is for guidance only. Some services are provided only in conjunction with other services. Therefore, the final price may differ from those presented on this site when contacting a medical center to conclude a contract for the provision of medical services.
Радионуклидное исследование слюнных желез
Вверх
Услуга
цена для граждан:
беларуси
снг
остальных стран
Динамическая сцинтиграфия слюнных желез
99 р. 76 к.
139 р. 50 к.
139 р. 50 к.