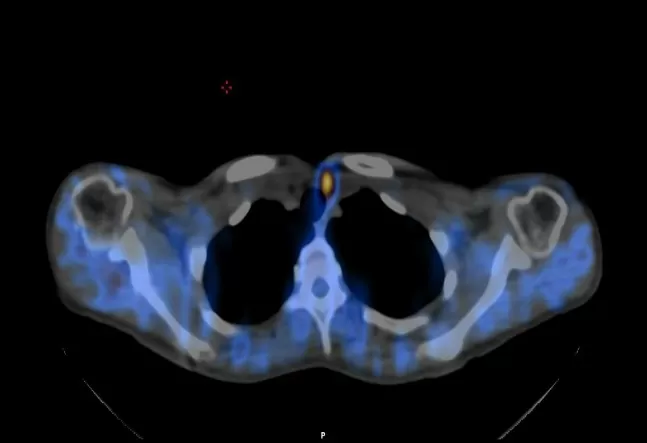 Parathyroid glands examination
Today, scintigraphy is widely accepted as one of the most effective diagnostic methods. The technique is based on application of radiopharmaceuticals that have the unique ability to accumulate in tissue structures of the studied organ.
INDICATIONS FOR THE EXAMINATION
Static planar study of parathyroid glands in combination with SPECT-CT (computer-assisted tomography) make it possible to:
determine the particularities of anatomical and ectopic locations of glands with an increased metabolism;
diagnosis of hyperplasia/adenom and of transformed parathyroid gland relapse (initial localization and activity testing);
analysis of expansive processes associated with thyroid gland, or suspected expansive or nodal process in a gland, detection of thoracic goiter;
assessment of transplant functions;
post-surgery or conservative therapy monitoring of parathyroid gland disorders;
assessment of neoplasms in the neck, upper mediastinum and thoracic cage areas.
THE PROCEDURE OF RADIONUCLIDE PARATHYROID GLANDS EXAMINATION PERFORMED AT THE RCHCC
Before the procedure, a radiopharmaceutical agent is administered to the patient. Some time after that, radioisotopic examination (scintigraphy or SPECT-CT) results are recorded and analyzed. Scans reflect hormonal activity as "hot" and "cold" areas. These are subsequently analyzed.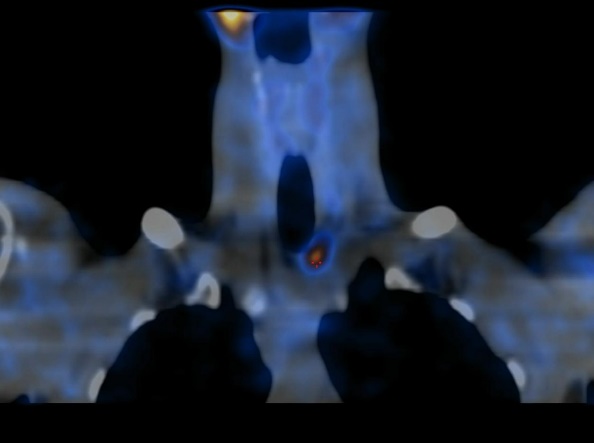 CONTRAINDICATIONS:
Absolute contraindications: Pregnancy; Hypersensitivity to the active substance or excipients; Febrile conditions;
Relative contraindications: breast feeding.
PREPARING FOR THE TEST
The test is performed on an empty stomach (fasting for at least four hours);
Before the examination and based on the consulting physician's advice, it is recommended to suspend administration of: calcimimetics -- two weeks before the examination, active vitamin D preparations -- one week before the examination or three weeks if any nutritional supplements containing vitamin D were administered;
A single intake of fatty food (one to two glasses of creamy milk or cream) during the period between the stages of the examination.
HOW CAN I HAVE A RADIONUCLIDE PARATHYROID GLANDS EXAMINATION AT THE CENTER?
To be eligible for the examination, you will need a referral from your physician.
Call the Contact Center or the Isotope Laboratory at the numbers (8 (017) 543-42-23 and 8 (017) 543-42-19, from 8:00 till 14:00 during the weekdays to make a reservation.
Be at the Center at the appointed time.
Fill in and sign a paid service contract at the Reception.
Pay the bill at the RCMC pay office, or through the ERIP electronic payment system.
Collect the examination report and the Isotope Laboratory report.
Branch services
The information presented in this Price List is for guidance only. Some services are provided only in conjunction with other services. Therefore, the final price may differ from those presented on this site when contacting a medical center to conclude a contract for the provision of medical services.
Радионуклидное исследование паращитовидных желез
Вверх
Услуга
цена для граждан:
беларуси
снг
остальных стран
ОФЭКТ паращитовидных желез
94 р. 27 к.
128 р. 30 к.
128 р. 30 к.
ОФЭКТ паращитовидных желез (после статистического обследования)
79 р. 43 к.
113 р. 46 к.
113 р. 46 к.
ОФЭКТ паращитовидных желез совмещенная с КТ
156 р. 62 к.
272 р. 63 к.
272 р. 63 к.
ОФЭКТ паращитовидных желез совмещенная с КТ и контрастированием
153 р. 49 к.
266 р. 93 к.
266 р. 93 к.
Сцинтиграфия статическая паращитовидных желез
96 р. 38 к.
131 р. 32 к.
131 р. 32 к.