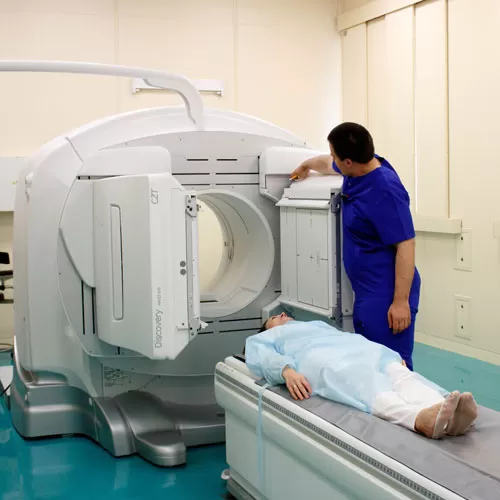 Myocardial perfusion examination
Myocardial perfusion scintigraphy (in the state of rest and under a drug load)
This study method is based on the capacity of the cardiac muscle to accumulate radioactive pharmaceuticals whose radiation is registered by the recorder (a gamma-ray chamber).
Single-photon emission computed tomography of myocardium makes it possible to evaluate blood supply of the cardiac muscle at the micro-circulation level. The technique is based on the assessment of functional activity of cardiomyocyte mitochondrions and unaffected coronary blood flow.
Concurrent low-exposure X-ray computer tomography allows an accurate correlation of anatomic and topographic structures of functional and morphological scans thus minimizing errors and fusion of organ images due to thoracic cage and abdomen excursion during the breathing action.
Synchronization with ECG not only offers diagnostic information about the state of coronary micro-circulation but also makes it possible to obtain data on the dimensions of the left ventricle, reveal contractile function impairment, detect local myocardium contractility abnormalities and determine systolic thickening of myocardium. Based on the estimation of the severity and the scope of functional impairment of the left ventricular, risk stratification and assessment of a prognosis of the majority of cardiovascular disorders are performed; a treatment tactic is selected and the effectiveness of medication therapy is monitored.
INDICATIONS FOR THE EXAMINATION
Diagnosis of coronary heart diseases: for high-risk patients including those having equivocal results of exercise tests, non-diagnostic ECG, as well in order to identify myocardium viability;
risk stratification: for patients affected by myocardial infarction and persons with a high risk of cardiovascular complications prior to non-cardiac surgery operations;
evaluation of results of surgical and interventional treatment: permeability of coronary artery shunts, effectiveness of angioplasty, ongoing assessment of the effectiveness of thrombolytic therapy;
diagnosis of myocardial infarction in cases of relapsing painful condition, non-diagnostic ECG and increased blood plasma troponin levels;
assessment of myocardium vitality in cases of toxic damage to myocardium.
THE PROCEDURE OF RADIOISOTOPIC EXAMINATION OF MYOCARDIUM
The examination is performed in two regimes, at rest and under stress. The latter procedure imitates physical exercises by way of introducing a special pharmaceutical. Analysis data accurately reflect the status of vascular blood supply, a standardized degree of impairment severity and the scope of changes. Comparison of the findings makes it possible to either provide surgical assistance which may include stenting or refrain from a surgical intervention.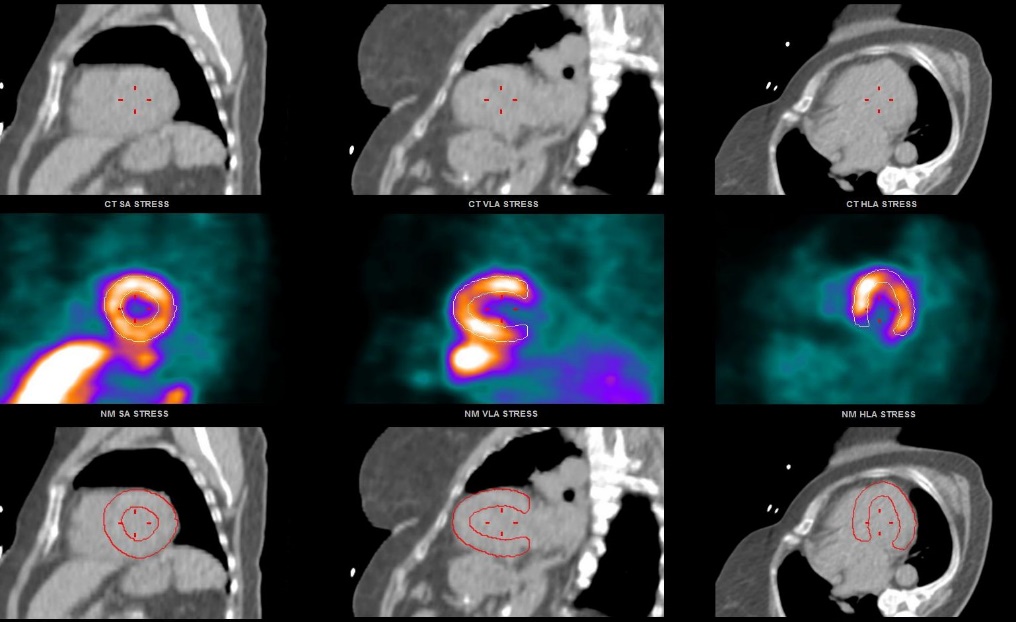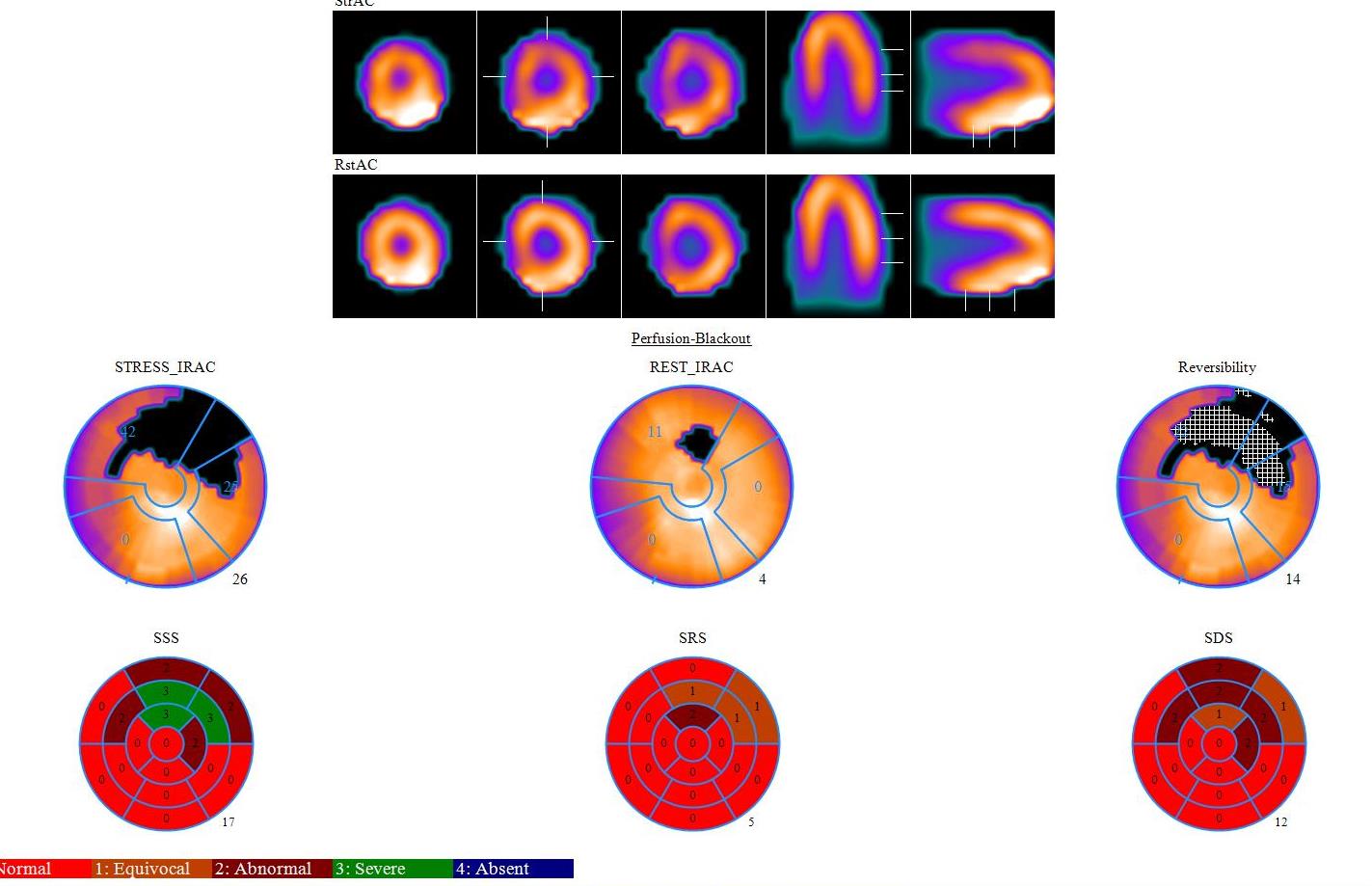 CONTRAINDICATIONS:
Absolute contraindications: pregnancy; hypersensitivity to the active substance or excipients; febrile conditions; the patient's medical history contains records of previous: bronchial asthma, instable angina, myocardial infarction (less than two weeks ago), cardiac insufficiency at rest; heart or blood vessel aneurysm, abnormally high (200 by 120 mm Hg or low arterial pressure (less than 95 mm Hg); aortic valve stenosis or general grave condition.
Relative contraindications: breast feeding.
PREPARING FOR THE TEST
The test is performed on an empty stomach (fasting for at least four hours);
please refrain from smoking for five hours before the test;
24 hours before the test, stop taking medical and food products containing caffeine, such as Citramonum, tea, coffee, chocolate, Coca-Cola, Pepsi-Cola, etc.
it is best that administration of the following drugs be suspended (based on the consulting physician's advice): short-acting nitrates (molsidomine, nitrong, isoket, isomak spray) -- one to two days before the test; betablockers (propanolon, anapriline, corvitol, metoprolol, concor, bisoprolol, carvedilol, corinfar, fenigid, etc.) -- two to five days before the test; calcium channel antagonists (nifedipine, diltiazem, verapamil, amlodipine, norvasc, nifecard, etc.) -- two to five days before the test;
the patient shall make a single intake of fatty food (drink one to two glasses of creamy milk or cream) during the period between the injection of the radio pharmaceutical and the tomography examination.
HOW CAN I HAVE A RADIOISOTOPIC EXAMINATION OF MYOCARDIUM AT THE CENTER?
To be eligible for the examination, you will need a referral from your physician.
Call the Contact Center or the Isotope Laboratory at the numbers (8 (017) 543-42-23 and 8 (017) 543-42-19, from 8:00 till 14:00 during the weekdays to make a reservation.
Be at the Center at the appointed time.
Fill in and sign a paid service contract at the Reception.
Pay the bill at the RCMC pay office, or through the ERIP electronic payment system.
Collect the examination report and the Isotope Laboratory report.
Branch services
The information presented in this Price List is for guidance only. Some services are provided only in conjunction with other services. Therefore, the final price may differ from those presented on this site when contacting a medical center to conclude a contract for the provision of medical services.
Услуга
цена для граждан:
беларуси
снг
остальных стран
ОФЭКТ миокарда в нагрузке с ЭКГ-синхронизацией
184 р. 22 к.
245 р. 88 к.
245 р. 88 к.
ОФЭКТ миокарда в покое с ЭКГ-синхронизацией
129 р. 08 к.
171 р.
171 р.
ОФЭКТ миокарда в покое совмещенная с КТ
167 р. 10 к.
270 р. 39 к.
270 р. 39 к.
ОФЭКТ миокарда с фармакологической нагрузкой совмещенная с КТ
217 р. 97 к.
360 р. 75 к.
360 р. 75 к.