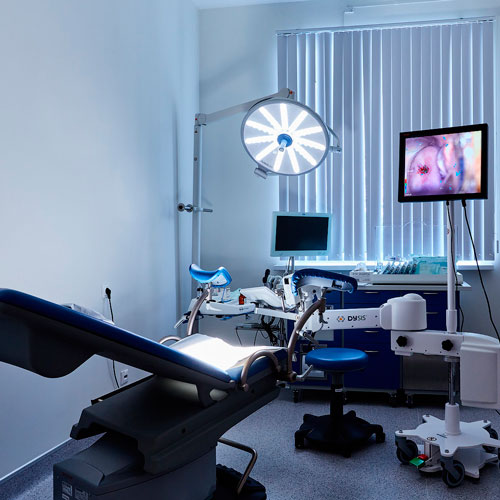 Hysteroscopy
Hysteroscopy is an endoscopic examination of the uterine cavity which enables visual diagnostic of uterus and uterine tubes. This procedure is performed in order to prevent endometrium pathologies and to treat uterine cavity diseases.
INDICATIONS FOR HYSTEROSCOPY
Menstrual cycle irregularities and postmenopause bleedings;
Suspected abnormal uterus development, endometrium and myometrium pathologies and uterine perforation;
Diagnostic endometrectomy.
HYSTEROSCOPY PROCEDURES PERFORMED AT THE RCMC
Hysteroscopy with concurrent biopsy is performed at the secondary surgical facility of the Center's Gynecology Department to prepare the patient for operative therapy of uterine fibrosis and ovary cysts.
The procedure involves general anesthesia. During the hysteroscopic procedure, therapy of fibroids, polyps, endometrioses, etc. may be performed. Concurrently, samples are collected for subsequent studies.
CONTRAINDICATIONS
General grave condition of the patient;
Acute and subacute infectious diseases of pelvic organs;
Uterine neck cancer screening;
Uterine bleeding;
Blood clotting abnormalities.
PREPARING FOR HYSTEROSCOPY
Ten days before the procedure, general blood and urine tests, coagulation test, HIV, hepatitis and syphilis tests shall be performed.
Please visit a gynecologist to obtain a swab sample for sexually transmitted infection testing.
Your consulting physician may also appoint additional samples and tests to be taken.
HOW TO GET HYSTEROSCOPY PROCEDURES AT THE RCMC
Call the Contact Center to make an appointment for a consultation with the head of the gynecological department Kazakevich A.I.
Come to the consultation on time.
On the day of the procedure conclude a contract for the provision of paid services at the registry.
Pay the invoice at the cash desk of the RCMC or via ЕРИП (SSIS: Single Settlement and Information Space)
Branch services
The information presented in this Price List is for guidance only. Some services are provided only in conjunction with other services. Therefore, the final price may differ from those presented on this site when contacting a medical center to conclude a contract for the provision of medical services.
Услуга
цена для граждан:
беларуси
снг
остальных стран
Гистероскопия диагностическая под в/в анестезией
507 р. 39 к.
700 р. 67 к.
700 р. 67 к.
Гистероскопия с биопсией эндометрия - (с системой видеофиксации) (под внутривенной анестезией)
527 р. 68 к.
742 р. 70 к.
742 р. 70 к.
Гистероскопия с раздельным диагностическим выскабливанием - (с системой видеофиксации) (под внутривенной анестезией)
527 р. 68 к.
742 р. 70 к.
742 р. 70 к.