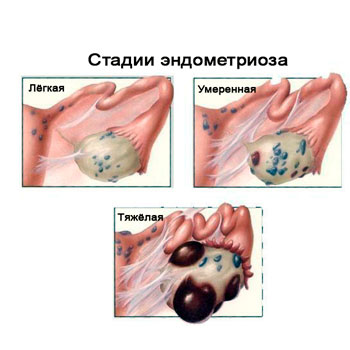 Surgical treatment of adenomyosis performed
Both adenomyosis and endometriosis, especially in cases of aggressive progress of the diseases, may deteriorate both the quality of life of a woman and affect her ability to to conceive and carry pregnancy to term.
INDICATIONS FOR SURGICAL INTERVENTION
Low efficiency of pharmaceutical treatment;
acute pains localized in a certain area;
age of over 40 years;
cystic lesions within the ovarian body;
infertility.
SURGICAL TREATMENT OF ADENOMYOSIS PERFORMED AT THE RCMC
The Operative Gynecology Department performs laparoscopic operations to treat any form and any degree of expansion of endometriosis including advanced and deeply infiltrated endometriosis complicated by the involvement of adjacent pelvic structures (intestines, renal ducts and urinary bladder), as well as of surgical scar endometriosis.
In women affected by the prevalent form of endometriosis or suffering from pronounced pain syndrome that negatively affect the quality of life, as well as in cases of anemization, radical surgical treatment is performed which includes hysterectomy involving bisection of appendages, all visible endometriosis focuses and a revision of pelvic and abdominal organs.
HOW TO GET SURGICAL TREATMENT OF ADENOMYOSIS AT THE RCMC
Call the Contact Center to make an appointment for a consultation with the head of the gynecological department Kazakevich A.I.
Come to the consultation on time.
On the day of the procedure conclude a contract for the provision of paid services at the registry.
Pay the invoice at the cash desk of the RCMC or via ЕРИП (SSIS: Single Settlement and Information Space)
Branch services
The information presented in this Price List is for guidance only. Some services are provided only in conjunction with other services. Therefore, the final price may differ from those presented on this site when contacting a medical center to conclude a contract for the provision of medical services.
Лечение эндометриоза, аденомиоза
Вверх
Услуга
цена для граждан:
беларуси
снг
остальных стран
Гистероскопия диагностическая под в/в анестезией
507 р. 39 к.
700 р. 67 к.
700 р. 67 к.
Экстирпация матки без придатков (с придатками)
307 р. 18 к.
533 р. 25 к.
533 р. 25 к.
Анестезиологическое пособие ОЭА
439 р. 99 к.
674 р. 79 к.
674 р. 79 к.
Анестезиологическое пособие под спинальной анестезией
358 р. 21 к.
605 р. 05 к.
605 р. 05 к.
Комбинированная анестезия: эндотрахеальная + ESP-блок
475 р. 38 к.
711 р. 44 к.
711 р. 44 к.
Комбинированная анестезия: эндотрахеальная + спинальная
466 р. 13 к.
702 р. 19 к.
702 р. 19 к.
Комбинированная анестезия: эндотрахеальная + эпидуральная
648 р. 74 к.
884 р. 80 к.
884 р. 80 к.
Лапароскопия на органах малого таза
203 р. 36 к.
327 р. 35 к.
327 р. 35 к.
Анестезиологическое пособие (общая эндотрахеальная анестезия)
270 р. 54 к.
326 р. 80 к.
326 р. 80 к.
Лапароскопическая гистерэктомия
473 р. 64 к.
799 р. 21 к.
799 р. 21 к.
Анестезиологическое пособие (сбалансированная общая эндотрахеальная анестезия + продленная эпидуральная блокада)
603 р. 91 к.
806 р. 27 к.
806 р. 27 к.
Анестезиологическое пособие (общая эндотрахеальная анестезия)
504 р. 96 к.
599 р. 02 к.
599 р. 02 к.