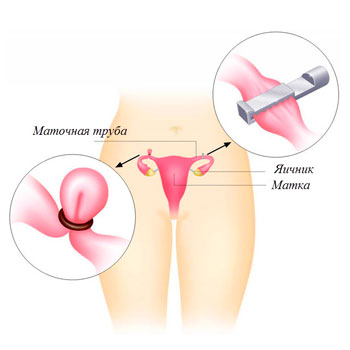 Laparoscopical sterilization
This is one of the most effective techniques of pregnancy prophylaxis. The technique makes it possible to retain the menstrual cycle and hormonal profile. Sterilization is, in most cases, irreversible, thus, the choice must be well-informed.
INDICATIONS FOR STERILIZATION
There are no strict indications to sterilization; it is a voluntary procedure.
There are certain contraindications to pregnancy and child-bearing depending on the medical condition.
LAPAROSCOPICAL STERILIZATION AT THE RCMC
Laparoscopical sterilization is performed on female patients that:
are aged 35 and older;
are under 35 of age, based on medical indications;
patients under 35 of age with three and more children.
The operation involves creating an artificial obstruction of uterine tubes using the laparoscopy method.
CONTRAINDICATIONS
cardiovascular and respiratory disorders;
pelvic neoplasms;
diabetes mellitus;
obesity;
anterior abdominal wall hernia.
PREPARATION FOR SURGERY INTERVENTION
Ten days before the procedure, blood and urine tests, HIV, hepatitis and syphilis tests shall be performed.
Undergo a gynecological examination and have a swab test taken.
Have an uterus and uterine appendage ECG and ultrasonography.
HOW TO GET LAPAROSCOPICAL STERILIZATION AT THE RCMC
Call the Contact Center to make an appointment for a consultation with the head of the gynecological department Kazakevich A.I.
Come to the consultation on time.
On the day of the procedure conclude a contract for the provision of paid services at the registry.
Pay the invoice at the cash desk of the RCMC or via ЕРИП (SSIS: Single Settlement and Information Space)
Branch services
The information presented in this Price List is for guidance only. Some services are provided only in conjunction with other services. Therefore, the final price may differ from those presented on this site when contacting a medical center to conclude a contract for the provision of medical services.
Лапароскопическая стерилизация
Вверх
Услуга
цена для граждан:
беларуси
снг
остальных стран