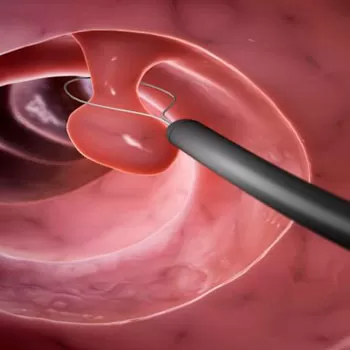 Removal of uterine body and uterine neck polyps
The essential danger associated with uterine body or uterine neck polyps and endometrial hyperplasia is the risk of their degeneration into cancer lesions in the absence of proper therapy.
INDICATIONS FOR SURGICAL INTERVENTION
The size of an existing polyp exceeded 15 mm, or it is developing rapidly;
Heavy menstrual bleeding and intermenstrual bleeding;
Conception disorders.
SURGICAL TREATMENT OF UTERINE BODY OR UTERINE NECK POLYPS AND OF ENDOMETRIAL HYPERPLASIA PERFORMED AT THE RCMC
In the presence of of the above pathologies, out Operative Gynecology Department performs the following operations:
hysteroscopy;
hystero-resectoscopy (coagulation and transection of the polyp foundation);
ablation of endometrium (removal of endometrium with electrical current or laser radiation with the use of electrodes of various types) -- this is an alternative to hysterectomy when concomitant somatic disorders make laparoscopical access life-threatening.
CONTRAINDICATIONS
pregnancy;
uterine neck cancer screening;
excessive bleeding.
PREPARATION FOR SURGERY INTERVENTION
Refrain from sexual contacts for three days before the procedure.
Intake of blood-thickening pharmaceutical may be suspended based on the consulting physician's recommendations.
Remove hair in the genital area.
Refrain from eating and drinking for 12 hours before the procedure.
HOW TO GET SURGICAL TREATMENT OF UTERINE BODY OR UTERINE NECK POLYPS AND ENDOMETRIAL HYPERPLASIA AT THE RCMC
Call the Contact Center to make an appointment for a consultation with the head of the gynecological department Kazakevich A.I.
Come to the consultation on time.
On the day of the procedure conclude a contract for the provision of paid services at the registry.
Pay the invoice at the cash desk of the RCMC or via ЕРИП (SSIS: Single Settlement and Information Space)
Branch services
The information presented in this Price List is for guidance only. Some services are provided only in conjunction with other services. Therefore, the final price may differ from those presented on this site when contacting a medical center to conclude a contract for the provision of medical services.
Удаление полипов тела и шейки матки, гиепрплазии эндометрия
Вверх
Услуга
цена для граждан:
беларуси
снг
остальных стран
Гистероскопия диагностическая под в/в анестезией
507 р. 39 к.
700 р. 67 к.
700 р. 67 к.
Гистерорезектоскопия
250 р. 82 к.
326 р. 13 к.
326 р. 13 к.
Анестезиологическое пособие под спинальной анестезией
232 р. 05 к.
355 р. 10 к.
355 р. 10 к.
Анестезиологическое пособие под ТВА
211 р. 86 к.
311 р. 86 к.
311 р. 86 к.
Анестезиологическое пособие ОЭА
275 р. 82 к.
389 р. 97 к.
389 р. 97 к.
Анестезиологическое пособие сакральная анестезия
235 р. 26 к.
358 р. 31 к.
358 р. 31 к.
Полипэктомия и раздельное диагностическое выскабливание (под внутривенной анестезией)
303 р. 61 к.
462 р. 41 к.
462 р. 41 к.