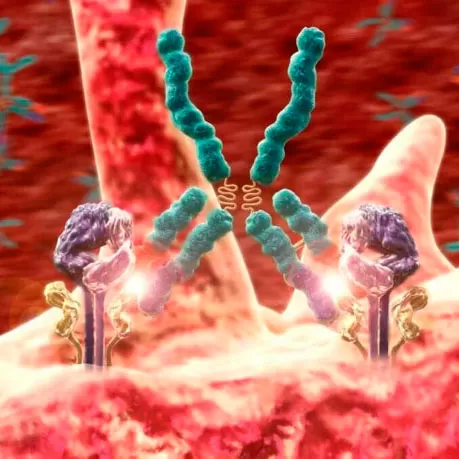 Immunological studies
An immunological study is a laboratory analysis of venous blood intended to reveal any abnormalities in the functioning of the patient's immune system.
INDICATIONS FOR IMMUNOLOGICAL STUDIES
Immunological studies are performed to evaluate the functioning and conditions of the immune system that may develop following an infection or against the background of autoimmune disorders.
OUR LABORATORY PERFORMS:
Complement component studies

Complement factor С3
Complement factor С4
Immunoglobulins

Class A immunoglobulins
Class M immunoglobulins
Class G immunoglobulins
Class E immunoglobulins (IgE)
Hormonal studies
Thyroid gland

* Thyroid stimulating hormone (TSH, or thyrotropin)

* Free thyroxine (free Т4)

* Free triiodothyronine (free Т3)

* Thyroperoxidase antibodies (TPO, or mircosomal antibodies)

* Thyroglobulin (TG)
The pituitary-gonadal system

* Follicle stimulating hormone (FSH)

* Luteinizing hormone (LH)

* Prolactin

* Monomeric prolactin

* Estradiol

* Progesteron

* Testosteron

* Sex hormone binding globulin (SHBG)

* Free testosterone index (computational method)

* Free testosterone (computational method)
The reproductive system marker

* Antimullerian hormone (AMH)
The pituitary-adrenal system

* Adrenocorticotropic hormone (ACTH)

* Cortisol

* Saliva cortisol

* Dehydroepiandrosterone sulphate (DHEA-S04)
The endocrine function of the pancreatic gland

* C-peptide

* Insulin (IRI)

* The HOMA index (an assessment of insulin resistance) (when ordering insulin and glucose)
Calcium phosphorus exchange and bone marrow metabolism

* Parathyroid hormone (parathormone)

* 25-OH vitamin D (vitamin D3)

* Osteocalcin

* Bone matrix formation marker P1NP
N-osteocalcin (bone turnover marker)
Бета-CrossLaps (bone resorption marker)
Procollagen Type 1 N-Terminal Propeptid
PREPARATION FOR BLOOD ANALYSIS
Rules for preparing the patient for the procedure for taking blood from a vein for hematological studies (complete blood count, ESR, etc.)
HOW TO TAKE A BLOOD TEST
At the reception, conclude an agreement for the provision of paid services (if you have a referral from a doctor, show it to the medical registrar)
Pay the invoice at the cash desk of the RCMC or via ЕРИП (SSIS: Single Settlement and Information Space)
Get tested.
Test material is accepted according to schedule: Friday through Monday, from 7:30 till 11:00, Saturday from 9:00 to 11:00 (on Saturday, tests are accepted by appointment through the Contact Center). Test results are made available to the physician and the patient at 15:00 on the same day.
Branch services
The information presented in this Price List is for guidance only. Some services are provided only in conjunction with other services. Therefore, the final price may differ from those presented on this site when contacting a medical center to conclude a contract for the provision of medical services.
Услуга
цена для граждан:
беларуси
снг
остальных стран
Иммуноглобулин E
10 р. 17 к.
13 р. 22 к.
13 р. 22 к.
Иммуноглобулин А
2 р. 84 к.
4 р. 81 к.
4 р. 81 к.
Иммуноглобулин М
2 р. 84 к.
4 р. 81 к.
4 р. 81 к.
Иммуноглобулин G
2 р. 84 к.
4 р. 81 к.
4 р. 81 к.
Компоненты комплемента
Вверх
Услуга
цена для граждан:
беларуси
снг
остальных стран
С3 компонент комплемента
2 р. 95 к.
4 р. 89 к.
4 р. 89 к.
С4 компонент комплемента
2 р. 57 к.
4 р. 51 к.
4 р. 51 к.