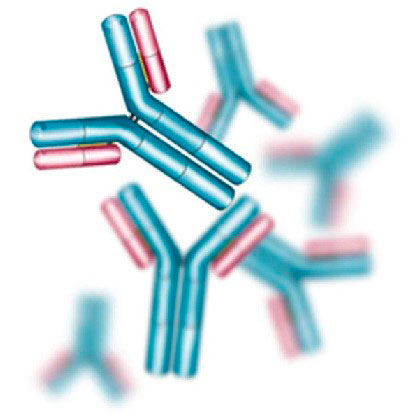 Allergy diagnostics
During this examination, the content of immunoglobulin E in blood serum is studied. The analysis enables precise diagnosis and treatment of allergies.
INDICATIONS FOR THE EXAMINATION
The study is appointed to diagnose:
asthma;
atopic dermatitis (eczema);
allergic rhinitis;
dietary allergy.
OUR LABORATORY PERFORMS:
Class E immunoglobulins (reagins) participate in the development of atopic allergic disorders (bronchial asthma, rhinitis, urticaria, atopic dermatitis etc.). They are able to form associations with the surface of granule cells and basophils of skin and mucosal lining. Total blood plasma IgE count is used as a screening method for the detection of allergies, however, to reveal the causative allergen, allergen-specific immunoglobulins must be detected. Apart from the above, IgE plays a substantial role in the development of immunity to ascarides, toxoplasms, nematodes, echinococcus, trichina and other parasites due to the ability of IgE to interact with helminth antigens. This means that an increased concentration of IgE in blood plasma may be evidence of a parasitic invasion.
Diagnosis of Ig E class antibodies to respiratory (inhalation) allergens in human serum or plasma.
Определение антител класса Ig Е к дыхательным (ингаляционным) аллергенам с целью комплексного исследования, которое позволяет количественно определять уровень IgE-антител в крови отдельно к основным ингаляционным аллергенам, способным провоцировать развитие симптомов респираторной аллергии, среди которых бытовые (клещи D. farinae и D. pteronyssinus), эпидермальные (эпителий и шерсть кошки, собаки, лошади, морской свинки, кролика, хомячка), пыльцевые (ольха, береза, лещина, дуб, смесь луговых трав, рожь, полынь, подорожник), грибковые (Alternaria alternate, Penicillum notatum, Cladosporium herbarum, Aspergillus fumigatus);

Diagnosis of Ig E class antibodies to food allergens in human serum or plasma.
Determination of Ig E class antibodies to food allergens for the purpose of a comprehensive study that allows you to quantify the level of IgE antibodies in the blood separately to each of the 20 common food allergens: hazelnut, peanut, walnut, almond, cow's milk, egg white, egg egg yolk, casein, potato, celery, carrot, tomato, codfish, shellfish, orange, apple, wheat flour, rye flour, sesame seed, soybeans
PREPARATION FOR BLOOD ANALYSIS
Rules for preparing a patient for blood donation for hormonal analysis, vitamins, tumor markers, markers of osteoporosis, infections, autoimmune diagnostics and allergy diagnostics
HOW TO TAKE A BLOOD TEST
At the reception, conclude an agreement for the provision of paid services (if you have a referral from a doctor, show it to the medical registrar)
Pay the invoice at the cash desk of the RCMC or via ЕРИП (SSIS: Single Settlement and Information Space)
Get tested.
Test material is accepted according to schedule: Friday through Monday, from 7:30 till 11:00, Saturday from 9:00 to 11:00 (on Saturday, tests are accepted by appointment through the Contact Center). Test results are made available to the physician and the patient at 15:00 on the same day.
Branch services
The information presented in this Price List is for guidance only. Some services are provided only in conjunction with other services. Therefore, the final price may differ from those presented on this site when contacting a medical center to conclude a contract for the provision of medical services.
Аллергологические исследования
Вверх
Услуга
цена для граждан:
беларуси
снг
остальных стран
Иммуноглобулин E
10 р. 17 к.
13 р. 22 к.
13 р. 22 к.