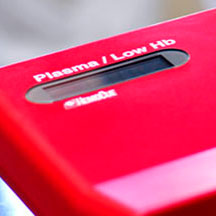 Examination of low hemoglobin level
This is one of the most common blood tests which enables the physician to determine whether there are any pathologies or risk of pathologies.
INDICATIONS FOR THE EXAMINATION TO REVEAL LOW HEMOGLOBIN LEVEL
Hemoglobin measurement in irrigating solutions during surgical operations and procedures;
Quantitative estimation of patient's intravascular hemolysis (plasma hemoglobin);
Plasma hemoglobin level measurement following physical exercises, stress or fasting;
Simple donor blood and blood component hemolysis analysis to assess its suitability for blood transfusion.
OUR LABORATORY PERFORMS:
Studies to revel low blood hemoglobin levels (hemolysis).
For quantitative measurement of hemoglobin levels in blood plasma, serum, lavage fluids, and in blood and plasma preparations, we use the HemoCue Plasma/Low Hb station manufactured by HemoCue А.В., Sweden.
PREPARATION FOR BLOOD ANALYSIS
Rules for preparing a patient for blood donation for biochemical research



HOW TO TAKE A BLOOD TEST
At the reception, conclude an agreement for the provision of paid services (if you have a referral from a doctor, show it to the medical registrar)
Pay the invoice at the cash desk of the RCMC or via ЕРИП (SSIS: Single Settlement and Information Space)
Get tested.
Test material is accepted according to schedule: Friday through Monday, from 7:30 till 11:00, Saturday from 9:00 to 11:00 (on Saturday, tests are accepted by appointment through the Contact Center). Test results are made available to the physician and the patient at 15:00 on the same day.
Branch services
The information presented in this Price List is for guidance only. Some services are provided only in conjunction with other services. Therefore, the final price may differ from those presented on this site when contacting a medical center to conclude a contract for the provision of medical services.
Исследование низких уровней гемоглобина в крови
Вверх
Услуга
цена для граждан:
беларуси
снг
остальных стран
Исследование низких уровней гемоглобина в крови (гемолиз)
3 р. 37 к.
6 р. 02 к.
6 р. 02 к.