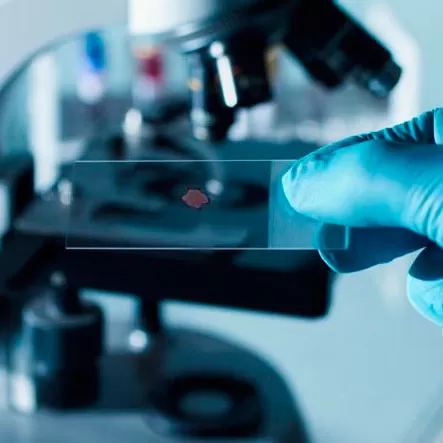 Clinical studies
This is a type of laboratory studies that involve an evaluation physical-chemical properties and a microscopic examination of biological material. Materials used for the study are urine, feces, sputum, spinal fluid, genito-urinary secretions and liquid collected from serous cavities.
INDICATIONS FOR CLINICAL STUDIES OF BIOLOGICAL MATERIALS
General clinical studies make it possible to detect disorders at an early stage; they provide the physician information on the localization, nature and stage of pathologic process, and in some cases may enable specialists to reach final diagnosis and evaluate the effectiveness of therapy.
OUR LABORATORY PERFORMS:
Urine examination -- this is an important diagnostic procedure which allows us to reveal many disorders at an early stage, most notably, disorders of the urinary system.
Common urine analysis

serves to determine physical and chemical properties of urine. The analysis also includes microscopic examination of urinary sediment. During the examination, such characteristics as color, odor, transparency, pH reaction, density, and protein, glucose, keton body, bilirubin and its metabolites and ascorbic acid content are determined. Urinary sediment study serves to determine cell elements and salts.
Spot (morning) urine test

Spot urine albumin
Spot urine albumin to creatinine ratio
Spot urine protein to creatinine ratio
Spot urine creatinine
Spot urine urea
Spot urine uric acid
Spot urine α-amylase
Spot urine pancreatic amylase
Spot urine glucose
24-hour urine test

24-hour urine albumin
24-hour proteinuria
24-hour urine albumin to creatinine ratio
24-hour urine protein to creatinine ratio
24-hour urine glucose
24-hour urine urea
24-hour urine creatinine
24-hour urine α-amylase
24-hour urine pancreatic amylase
24-hour urine uric acid
24-hour urine calcium
24-hour urine phosphorus
24-hour urine potassium
24-hour urine sodium
24-hour urine magnesium

When characteristics are measured in a 24-hour urine test, it must also state the quantity of urine produced over the 24-hour period.
Nechiporenko urine test

this test allows a more accurate estimation of erythrocytes, leukocytes and casts to reveal an inflammatory process of the urinoexcretory system.
Zimnitskiy test

the test makes it possible to evaluate the concentration function of kidneys, that is, the ability of kidneys to make urine more concentrated or dilute it. For this test, the patient shall collect urine every 3 hours during a 24-hour period (the total of 8 samples). At the Laboratory, we evaluate the volume and relative density of each of the three-hour urine samples, as well as daytime and nighttime urine output.
Three-glass urine test

this is used to determine the level of hematuria and to clarify the source of leukocyturia.
Rapid urine glucose and ketone test

This is a rapid test performed in medical emergencies.
Urine parameter studies are performed at the urine physical and chemical property analyzing station Н-800 manufactured by Dirui Industrial Co., Ltd., China. The station features dry chemistry technology and has refractometry, turbidimetry and colorimetry capacities that serve to enhance the accuracy of results.
Biochemical study of urine (using spot and 24-hour samples) is performed at the automated immunobiology and photometry testing station Cobas 6000, (module с501) produced by Roche Diagnostics GMBH., Germany.
Interpretation of urine test results
Urine protein/creatinine and albumin/creatinine ratios are informative indicators useful in the monitoring of the status of patient's kidney excretory function. These indicators offer an accurate estimate of protein and microalbumin excretion since the above ratios are not affected by hydration.
Urine albumin measurement is required to reveal early-stage preclinical nephropathy whose development is associated with the impairment of nephron tuft cell membranes, i.e., renal tissue pathology. Urine albumin is a marker enabling the assessment of kidney pathology and cardiovascular disorder risks. Microalbuminuria is a phenomenon of urinary albumin excretion in quantities exceeding physiological standards (i.e., 30 to 300 mg per day). This is an early symptom of an impaired function of kidneys; at this stage the disorder is yet treatable pharmacologically.
24-hour proteinuria is a marker which makes it possible to evaluate the functional status of kidneys.
24-hour creatinine is relatively consistent; it depends on the muscle mass and the secretary ability of kidneys. Animal protein-heavy diet facilitates an increased creatinine secretion. Measurement of its concentration in urine is used to diagnose and monitor kidney disorders. Creatinine plays an important role in the evaluation of filtration capacity of kidneys.
Urine urea concentration is related to the protein content in the diet, and depends on the rate of nitrous metabolite excretion. Urine urea measurement is used to assess the balance of protein synthesis and disintegration, i.e., nitrogen balance of the body.
Uric acid excreted with urine is an indicator of an intake of amino acids with food and their disintegration. Estimation of uric acid content in urine may in many cases assist in determining causes of its excessive quantities (excessive production of uric acid by the body or excretion abnormalities). Estimation of urine uric acid is most informative if it is performed simultaneously with the estimation of uric acid content in blood since this helps to determine the renal clearance of uric acid.
Total calcium level is an indicator of calcium absorption processes in the intestines, calcium metabolism in bones, its reabsorption and excretion through kidneys. 24-hour urine calcium estimation is useful for an objective estimation of calcium metabolism in the body.
Inorganic phosphorus is necessary for bone formation and cell-level energy exchange. An objective diagnosis of inorganic phosphorus metabolism impairments requires a concurrent estimation of its content in blood serum and in 24-hour urine sample.
The concentration of potassium in blood serum and its body stores is controlled by kidneys. Urine potassium estimation may enable evaluation of its daily loss.
Sodium is excreted through kidneys Its excretion is regulated by hormones of suprarenal cortex, posterior lobe of hypophysis and the central nervous system, and depends on blood pH level, the amount of sodium introduced into the body and the status of kidneys.
Evaluation of urine alpha-amylase activity is not very informative in cases of acute pancreatitis since the enzyme is found in salivary glands, pancreatic gland, large intestine, skeletal muscles, kidneys, lungs, ovaries, uterine tubes and prostate gland.
In cases of acute pancreatitis, estimation of pancreatic amylase is more specific than estimation of alpha-amylase. This test is also diagnostically valuable during the post-operative period in operations on abdominal cavity organs since it enables early diagnosis of a specific complication -- postoperative pancreatitis.
Urine glucose levels above the physiological standard (0 to 0.8 mmol/l) are associated with pathologies of kidneys, the endocrine system, as a side effect of pharmaceuticals, toxication or a complicated pregnancy.
Estimation of urine magnesium levels is used for a comprehensive assessment of stone formation probability. In urine, magnesium ions act as an inhibitor of calcium salt formation. Assessment of daily magnesium excretion is the most accurate evaluation of the volumes of its excretion by kidneys.
Estimation of chloride ion quantities in a 24-hour urine sample is necessary to clarify the causes of water electrolyte and acid-base exchange impairments.
Stool examination
In order to optimize the process of helminth eggs and larva, protozoans and their cysts, and to improve the detection of parasites and their laboratory visualization, we use disposable intestinal parasite concentrators.
Corpogram

(physical and chemical properties and microscopic analysis of stool) is a laboratory study of human stool aimed at diagnostics of digestive organ disorders. A coprological study may help to evaluate: fermentative activity and digestive capacity of the stomach, intestines and pancreatic gland, and any inflammatory processes developing in the intestines.
Stool occult blood test

This is a stool tests which is performed to reveal hidden bleeding in various segments of the digestive tract.
Determination of calprotectin in feces

Quantitative determination of calprotectin allows diagnosing inflammatory bowel diseases, differential diagnosis with irritable bowel syndrome and other causes of abdominal pain, for preventive examination of healthy people.
Sputum tests
General sputum test

(physical and chemical properties and microscopy of sputum)

this is a laboratory study which makes it possible to assess the nature, general properties and microscopic peculiarities of the sputum, and offers insight into any pathologic processes occurring in respiratory organs.
Mycobacterium tuberculosis detection (AFB)

this is microscopic detection of tuberculosis mycobacteria in sputum. This examination is performed only after a consultation with a therapeutist or a respirologist and based on their referral.
Examination of secretions of the genito-urinary organs is a study which enables the diagnosis of urogenital infections since its results give indications on the absence or development of an inflammatory process in the genito-urinary organs, and on their severity.
Microflora smear test (for women)

This examination serves to determine microbial population of female genito-urinary organs (urethra, vagina and cervical canal), the number of epithelial tissue leukocytes and their ratio, the amount of mucus and morphology of bacteria, as well as to reveal a number of disease agents.
Microflora smear test (for men)

This microscopic study of male genito-urinary smear allows to determine the microbial composition of the urinary tract (urethra), reveal any urethra inflammation (urethritis), as well as to reveal a number of specific disease agents.
Prostate gland fluid study

This is the basic examination appointed by a urinologist when a prostate gland disorder is suspected. The test is simple but very informative.

Prostate gland fluid microscopy
PCR-based real-time detection of DNA of Chlamydia trachomatis microbes.
PCR-based real-time detection of DNA of Trichomonas vaginalis microbes.
Parasitology studies are performed with the aim of detection of parasitic disease agents.
Detection of lamblia cysts in stool
Detection of helminth eggs in stool
Scraping for enterobiasis
Malaria parasite blood test
Cerebrospinal fluid (liquor) examination enables the assessment of the central nervous system's status. The study is only performed based on a physician's appointment in cases when a pathologic process is suspected in the central nervous system.
Exudate studies are used to diagnose various disorders that are accompanied by production of transudates and exudates, and to monitor infectious and neoplastic process therapy. This examination is only appointed by physician.
Synovial fluid study involves the determination of its physical and chemical properties, estimation of its biochemical analytes, and an analysis of cellular components performed to diagnose various inflammatory diseases of joints and dystrophic processes.
PREPARATION FOR ANALYSIS
Preparing for a urine test
Preparing on Getting Ready for Sampling and Testing
Preparation for sputum examination
HOW TO TAKE TESTS
At the reception, conclude an agreement for the provision of paid services (if you have a referral from a doctor, show it to the medical registrar)
Pay the invoice at the cash desk of the RCMC or via ЕРИП (SSIS: Single Settlement and Information Space)
Get tested.
Test material is accepted according to schedule: Friday through Monday, from 7:30 till 11:00, Saturday from 9:00 to 11:00 (on Saturday, tests are accepted by appointment through the Contact Center). Test results are made available to the physician and the patient at 15:00 on the same day.
Branch services
The information presented in this Price List is for guidance only. Some services are provided only in conjunction with other services. Therefore, the final price may differ from those presented on this site when contacting a medical center to conclude a contract for the provision of medical services.
Услуга
цена для граждан:
беларуси
снг
остальных стран
Общий анализ мочи
4 р. 41 к.
14 р. 05 к.
14 р. 05 к.
Трехстаканная проба
9 р. 75 к.
32 р. 46 к.
32 р. 46 к.
Исследование суточной порции мочи (белок, альбумин (микроальбумин), альбумин/креатинин, белок/креатинин)
Вверх
Услуга
цена для граждан:
беларуси
снг
остальных стран
Глюкоза (сыворотка, плазма)
1 р. 10 к.
3 р. 07 к.
3 р. 07 к.
Мочевина
1 р. 35 к.
3 р. 32 к.
3 р. 32 к.
А-амилаза панкреатическая
3 р. 43 к.
5 р. 40 к.
5 р. 40 к.
Мочевая кислота
1 р. 43 к.
3 р. 40 к.
3 р. 40 к.
Электролиты: кальций
1 р. 44 к.
3 р. 41 к.
3 р. 41 к.
Фосфор неорганический
1 р. 20 к.
3 р. 17 к.
3 р. 17 к.
Электролиты: калий
2 р. 34 к.
4 р. 31 к.
4 р. 31 к.
Электролиты: натрий
2 р. 09 к.
4 р. 06 к.
4 р. 06 к.
Магний
2 р. 39 к.
4 р. 36 к.
4 р. 36 к.
Исследование разовой (утренней) порции мочи (альбумин/креатинин, белок/креатинин)
Вверх
Услуга
цена для граждан:
беларуси
снг
остальных стран
Мочевина
1 р. 35 к.
3 р. 32 к.
3 р. 32 к.
Мочевая кислота
1 р. 43 к.
3 р. 40 к.
3 р. 40 к.
А-амилаза панкреатическая
3 р. 43 к.
5 р. 40 к.
5 р. 40 к.
Глюкоза (сыворотка, плазма)
1 р. 10 к.
3 р. 07 к.
3 р. 07 к.
Услуга
цена для граждан:
беларуси
снг
остальных стран
Копрограмма
8 р. 98 к.
20 р. 95 к.
20 р. 95 к.
Анализ кала на скрытую кровь (бензидиновая проба)
5 р. 54 к.
9 р. 87 к.
9 р. 87 к.
Анализ кала на скрытую кровь (количественный)
23 р. 80 к.
27 р. 52 к.
27 р. 52 к.
Исследование мокроты
Вверх
Услуга
цена для граждан:
беларуси
снг
остальных стран
Общий анализ мокроты
5 р. 63 к.
18 р. 78 к.
18 р. 78 к.
Обнаружение микобактерий туберкулеза (микроскопическое исследование на КУБ)
5 р. 01 к.
15 р. 52 к.
15 р. 52 к.
Исследование отделяемого мочеполовых органов
Вверх
Услуга
цена для граждан:
беларуси
снг
остальных стран
Мазок на флору (женщины)
2 р. 84 к.
8 р. 95 к.
8 р. 95 к.
Паразитологические исследования
Вверх
Услуга
цена для граждан:
беларуси
снг
остальных стран
Исследование кала на яйца глистов
13 р. 03 к.
20 р. 21 к.
20 р. 21 к.
Исследование цереброспинальной жидкости (ликвора)
Вверх
Услуга
цена для граждан:
беларуси
снг
остальных стран
Общий анализ спиномозговой жидкости (СМЖ)
13 р. 30 к.
44 р. 86 к.
44 р. 86 к.