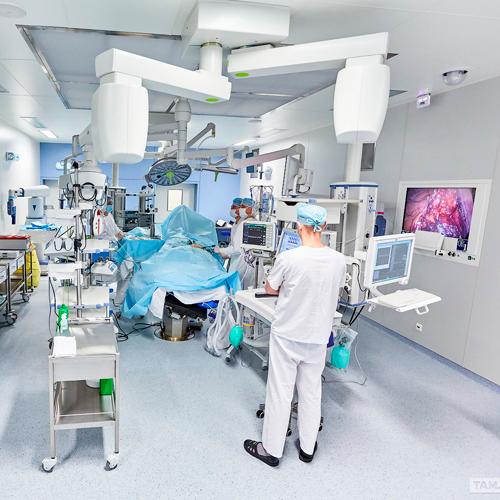 Surgery
Laparoscopic surgery is a golden standard in modern surgery, as well as a priority focus area of the Surgery Department of our Center.
Continual improvement of laparoscopic surgery techniques enabled us to implement laparoscopic procedures in therapeutic procedures to treat any kind of abdominal cavity organ (stomach, intestines, liver, gall bladder, pancreatic gland) pathologies.
CAPABILITIES OF THE SURGERY DEPARTMENT OF THE RCMC
Today, previous open operations and adhesive lesions within the abdominal cavity is not a contraindication for laparoscopic operations. Specialists of our Department have vast experience of laparoscopic surgery in the presence of adhesive processes within the abdominal cavity.
Main focus areas of the Surgery Department are:
Robot-assisted surgery
For the first time ever in the Republic of Belarus, The Center performs robot-assisted medical interventions. This enables us to carry out operations with higher accuracy and effectiveness.
Abdominal surgery
We offer a comprehensive range of segmented intestine and rectum surgery in cases of both benign and malignant pathologies.
We offer a full spectrum of stomach surgery procedures in cases of both benign and malignant pathologies.
Our Center performs the complete range of minimally invasive interventions under ultrasonic control in cases of benign and malignant pathologies of:
Retroperitoneal space tumor surgery
We use all the currently known techniques of inguinal and postoperative hernia treatment including minimally invasive procedures that use endovideosurgery equipment and robot-assisted procedures.
Minimally invasive treatment of spinal hernia
Radiowave nucleo annuloplasty techniques are aimed at coagulation of collagen, stabilization of the disk wall and thermal ablation of nerve roots (disk denervation).

Full spectrum of minimally traumatic surgical interventions to treat vein dilation of the lower limbs with the use of laser technologies and mini-approach techniques; sclerotherapy.
Proctology
Rectum pathology treatment procedures incorporate advanced technologies including laser and minimally invasive endoscopic transanal techniques. More information on treatment of hemorrhoid is available here.
Metabolic surgery of type 2 diabetes mellitus
We offer treatment of patients affected by type 2 diabetes mellitus using advanced endovideosurgery techniques. This results in the normalization of blood glucose levels and cessation of blood glucose lowering drug administration.
Traumatology and orthopaedic surgery
Modern minimally invasive techniques implemented by the Department make it possible to perform a comprehensive range of diagnostic and therapeutic arthroscopic interventions in cases of large and small joint pathologies.
Hospitalization for subsequent operative therapy in the Surgery Department is only possible if the following documents and test results are available: