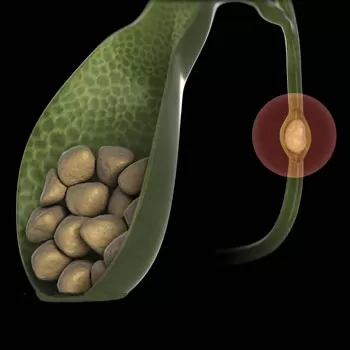 Surgical treatment of bile duct pathologies
In certain complicated cases of bile duct disorders when the effectiveness of conservative therapy is low, surgical treatment may be appointed in order to restore natural bile movement within the duct.
INDICATIONS FOR SURGICAL INTERVENTION
bile duct neoplasms;
gallstone disease;
acute cholecystitis;
pancreatitis;
cholangitis and cystic formations;
bile duct malformations.
SURGICAL TREATMENT OF BILE DUCT PATHOLOGIES AT THE RCMC
The Surgery Department of the Medical Center performs a broad range of surgical procedures of any sophistication on the bile ducts. We possess extensive experience of reparative operations on bile ducts.
Bile duct draining under ultrasonic control;
All advanced techniques of reparative bile duct operations;
Operative therapy of malignant and benign bile duct neoplasms.
Palliative surgical interventions on bile ducts;
Operative therapy of bile duct stones (cholangiolithiasis) with the use of endoscopic techniques.
CONTRAINDICATIONS
accumulation of fluid in the abdominal cavity;
blood clotting abnormalities.
obesity;
decompensated cardiovascular and pulmonary diseases.
HOW TO GET SURGICAL TREATMENT AT THE RCMC
Hospitalization of patients is based on surgeon's referral after a consultation with the Head of the Surgical department.
If there is surgeon's referral, you need:
Call the Contact Center to make an appointment with the head of the Surgical department
Come to the consultation on time.
Conclude a contract for the provision of paid services at the registry on the day of hospitalization.
Pay the invoice at the cash desk of the RCMC or via ЕРИП (SSIS: Single Settlement and Information Space)
Branch services
The information presented in this Price List is for guidance only. Some services are provided only in conjunction with other services. Therefore, the final price may differ from those presented on this site when contacting a medical center to conclude a contract for the provision of medical services.
Лапароскопические операции на желчных протоках
Вверх
Услуга
цена для граждан:
беларуси
снг
остальных стран
Диагностическая лапароскопия
130 р. 54 к.
214 р. 49 к.
214 р. 49 к.
Анестезиологическое пособие ЭТА
225 р. 11 к.
270 р. 85 к.
270 р. 85 к.
Полостные операции на желчных протоках
Вверх
Услуга
цена для граждан:
беларуси
снг
остальных стран
Холедохолитотомия открытая
598 р. 70 к.
871 р. 22 к.
871 р. 22 к.
Анестезиологическое пособие - общая эндотрахеальная анестезия/ларингеально-масочная анестезия
343 р. 04 к.
481 р. 73 к.
481 р. 73 к.
Опухоль проксимальных желчных протоков (опухоль Клачкина)
Вверх
Услуга
цена для граждан:
беларуси
снг
остальных стран
Расширенная гемигепатэктомия с резекцией первого сегмента печени и гепатикохоледоха
1657 р. 60 к.
2643 р. 07 к.
2643 р. 07 к.
Анестезиологическое пособие (ЭТА + продленная двусторонняя паравертебральная блокада)
1271 р. 14 к.
1682 р. 47 к.
1682 р. 47 к.
Анестезиологическое пособие (ЭТА + продленная эпидуральная анестезия)
1083 р. 53 к.
1494 р. 86 к.
1494 р. 86 к.
Анестезиологическое пособие ЭТА
893 р. 79 к.
1305 р. 12 к.
1305 р. 12 к.