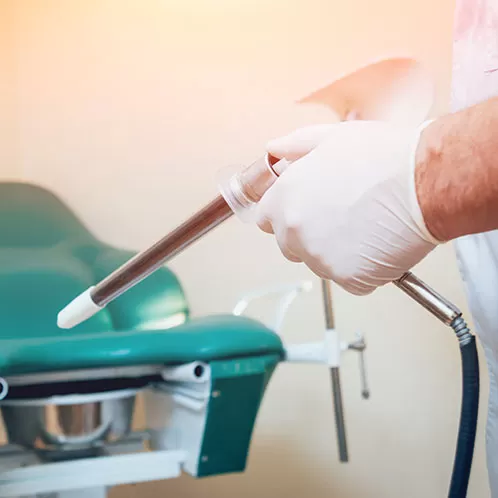 Proctology Office
The Proctology Office of the SI "Republican Clinical Medical Center" offers rectum, the anal canal and the para-anal area disease treatment services.
INDICATIONS TO SEEKING A PROCTOLOGIST'S SERVICES
A proctologist should be visited if you notice any alarming symptoms: unpleasant sensations, discomfort or pains in the anal area during and after bowl evacuation, traces of blood or mucus in feces.
PROCTOLOGY SERVICES PROVIDED AT THE RCMC
The consultation begins with a detailed interview of the patient's complaints. This includes clarification of the time when the symptom occurred first. A proctologist's examination involves a digital anal canal examination, and a study of the rectum and the anal canal with the use of special instruments. If required, additional testing may be appointed.
PREPARING FOR A VISIT TO THE PROCTOLOGIST
Several days before the examination, the patient shall follow a low-residue diet.
Evacuate fecal matter from the rectum using an enema or laxatives.
If the examination was scheduled for the first half of the day, please refrain from eating; if it was scheduled for the second half of the day, a light breakfast if permitted with products that do not cause gas production.
HOW TO GET AN APPOINTMENT WITH A PROCTOLOGIST AT THE RCMC
Call the Contact Center to make an appointment
Conclude a contract for the provision of paid services at the registry
Pay the invoice at the cash desk of the RCMC or via ЕРИП (SSIS: Single Settlement and Information Space)
Come to the consultation on time.
Branch services
The information presented in this Price List is for guidance only. Some services are provided only in conjunction with other services. Therefore, the final price may differ from those presented on this site when contacting a medical center to conclude a contract for the provision of medical services.
Услуга
цена для граждан:
беларуси
снг
остальных стран
Первичный прием врача-проктолога
37 р. 60 к.
74 р. 19 к.
74 р. 19 к.
Повторный прием врача-проктолога
30 р.
58 р. 99 к.
58 р. 99 к.
Аноскопия
16 р. 55 к.
31 р. 80 к.
31 р. 80 к.
Забор материала из прямой кишки и цитологических исследований
34 р. 46 к.
67 р. 33 к.
67 р. 33 к.
Видеоректороманоскопия
83 р. 21 к.
165 р. 01 к.
165 р. 01 к.
Лигирование геморроидальных узлов
108 р. 97 к.
215 р. 16 к.
215 р. 16 к.
Вскрытие абсцедирующего эпителиального копчикового хода
78 р. 79 к.
144 р. 53 к.
144 р. 53 к.