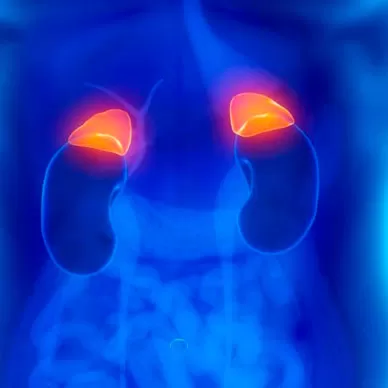 Surgical intervention on suprarenal glands
After a suprarenal gland excision, the patient requires lifelong medication due to the disruption of adrenalin, glucocorticoids and other hormone production by the extripated organ. Because of this, the operation is only performed if neoplasms in the suprarenal gland threaten the life of the patient and conservative therapy is unsuccessful.
INDICATIONS FOR SURGICAL INTERVENTION
suprarenal gland cystic lesions;
Conn syndrome;
pheochromocytoma;
adrenocortical cancer;
suprarenal gland adenoma;
lymphoma;
suprarenal gland myelolipoma.
SURGICAL TREATMENT OF SUPRARENAL GLAND DISORDERS AT THE RCMC
The highly skilled surgeons and advanced equipment of the Surgery Department perform surgical intervention on suprarenal glands with the use of laparoscopy techniques. Our Center is also the first in Belarus to perform laparoscopic operations on the suprarenal gland with the assistance of a robotic surgeon.
RCMC performs laparoscopical, or, "open" treatment of benign and malignant pathologies of the suprarenal gland.
CONTRAINDICATIONS
cardiac, pulmonary or renal insufficiency;
peritonitis;
stage 3 obesity;
diaphragmatic hernia;
infectious processes in the abdominal cavity;
adhesions and scars at the abdominal wall.
HOW TO GET SURGICAL TREATMENT AT THE RCMC
Hospitalization of patients is based on surgeon's referral after a consultation with the Head of the Surgical department.
If there is surgeon's referral, you need:
Call the Contact Center to make an appointment with the head of the Surgical department
Come to the consultation on time.
Conclude a contract for the provision of paid services at the registry on the day of hospitalization.
Pay the invoice at the cash desk of the RCMC or via ЕРИП (SSIS: Single Settlement and Information Space)
Branch services
The information presented in this Price List is for guidance only. Some services are provided only in conjunction with other services. Therefore, the final price may differ from those presented on this site when contacting a medical center to conclude a contract for the provision of medical services.
Оперативные вмешательства на надпочечниках
Вверх
Услуга
цена для граждан:
беларуси
снг
остальных стран
Лапароскопическая адреналэктомия с использ. роботизированного комплекса
1167 р. 48 к.
1730 р. 57 к.
1730 р. 57 к.
Анестезиологическое пособие (общая эндотрахеальная анестезия + продленная паравертебральная блокада)
702 р. 21 к.
866 р. 32 к.
866 р. 32 к.
Анестезиологическое пособие (общая эндотрахеальная анестезия + продленная эпидуральная блокада)
702 р. 21 к.
866 р. 32 к.
866 р. 32 к.
Анестезиологическое пособие (общая эндотрахеальная анестезия)
434 р. 36 к.
572 р. 93 к.
572 р. 93 к.
Лапароскопическая адреналэктомия
872 р. 24 к.
1079 р. 97 к.
1079 р. 97 к.
Анестезиологическое пособие (общая эндотрахеальная анестезия + продленная паравертебральная блокада)
702 р. 21 к.
866 р. 32 к.
866 р. 32 к.
Анестезиологическое пособие (общая эндотрахеальная анестезия + продленная эпидуральная блокада)
702 р. 21 к.
866 р. 32 к.
866 р. 32 к.
Анестезиологическое пособие (общая эндотрахеальная анестезия)
434 р. 36 к.
572 р. 93 к.
572 р. 93 к.